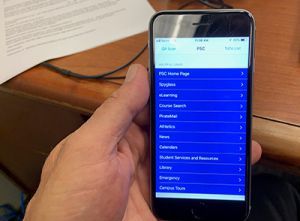 Published: 09-10-2019
By Troy Moon, Pensacola State College
When you first open the new Pensacola State College mobile app, you see a beautiful twilight photo of the M.J. Menge Bell Tower. But it's only there a second before it fades to the important stuff: A menu list of helpful links, including the App homepage, which is similar to the College's website page.
"Students don't want a lot of bells and whistles,'' said Jason King, Pensacola State's internet systems coordinator. "They want to find their stuff."
The free app is available at the Apple App Store. King and his team are currently developing an app for the Android platform.
Besides the homepage, the Pensacola State app has quick links to Spyglass, eLearning, course search, PirateMail, calendars, emergency contacts, news, maps of each campus and center as well as driving directions. The app also has links to all of the College's social media accounts.
The Pensacola State app was developed by College Web Administrator Frank Asprer.
"The app is basically a mobile version of the PSC website,'' Asprer explained. "It has all the links you need."
And a few other additions, including a QR code scanner and a "To Do List'' which allows users to keep notes and appointments.
"This is version 1.1,'' King said. "It's established on Apple now, so we can add, change things, make improvements, move things, as we go on."
The app rolled out in early August, but King said the initial launch was low-key.
"We didn't make a peep,'' King said. "Only a handful of the people at the College even know about it."
Now they do. But even before it was news, folks were searching for a PSC app. Even without marketing or promotion, the PSC app has been downloaded 132 times, as of Aug. 30.
"When a new student comes to PSC, they're probably curious and search to see if there's an app for the college,'' Asprer said. "Now there is."
King said the app is currently focused to primarily serve students, but said additions and changes will be made to include items important to faculty and staff.
Asprer said an addition he is working on will include even more specific driving directions to PSC locations.
"I want to make it specific,'' he said. "Right now, we have turn-to-turn to campus. But we need to make it turn-to-turn to specific buildings. That will make it a lot easier to get around."
Details: https://www.pensacolastate.edu/pensacola-state-college-mobile-app/.