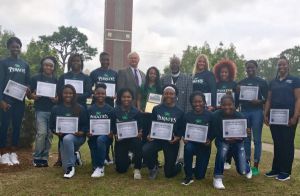 Published: 05-09-2017
The Pensacola State College women's basketball team recently was honored by Truth for Youth, a non-profit organization founded in 1993 that offers programs for at-risk and low-income children from ages 6 to 16.
Team members volunteered and helped the organization during the Blue Angels Homecoming Show in November. The Rev. John Powell presented the team with a plaque for volunteering. Coach Penny Jones along with each player also received individual certificates of appreciation.
Members of the team include Ahyiona Vason, Ta'Sheanne Armstrong, Nia Johnson, Kaloni Pryear, Naterria Luster, Daijah Brown, Autumn Jones, Mylashia Yancey, De'Nazhia Elder, Xena Dove, Xana Dove, Losmie Lutaya, Aminat Jubril and Tanisha Walker. Assistant coaches are Racheal Barnes and Alaina Jordan.