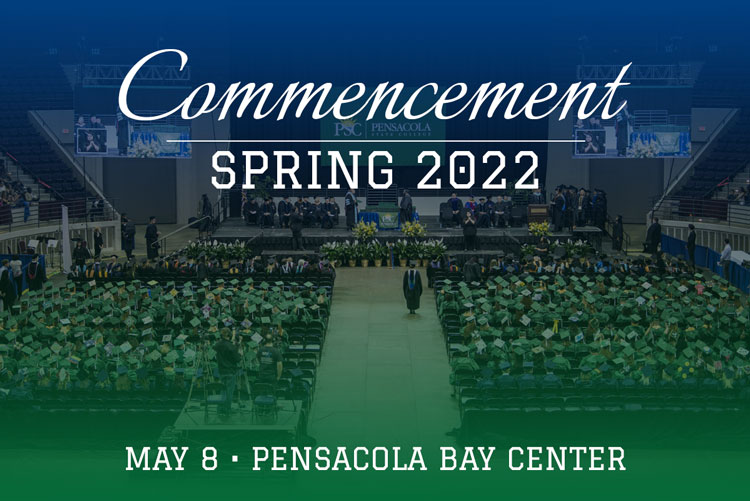 Nursing pinning ceremony to be held today
Pensacola State College will hold Spring 2022 nursing pinning and graduation today, May 5, and Sunday, May 8, respectively.
Bachelor of Science degree in Nursing and Associate of Science degree in Nursing graduates will be pinned during a 3 p.m. ceremony at First Pentecostal Church, 6485 Pensacola Blvd., Pensacola.
Ed Meadows, PSC president, will deliver comments and recognize the 13 bachelor's and 95 associate degree graduates from the nursing program.
The College's commencement ceremony is scheduled for 3 p.m. Sunday in the Pensacola Bay Center. Carol Carlan, PSC's longest-serving District Board of Trustees member, CEO of Carlan Consulting and president of the Ascension Sacred Heart Foundation, will be the guest speaker.
Charles Schuler, PSC humanities and social sciences professor, will be the Grand Marshal. Michael Payne, assistant professor of business, and Kenneth Phillips, the Performing Arts department head, will serve as Faculty Marshals. Jennifer Hill Faron, dean of the Milton campus, and Karen McCabe, principal of Pensacola State College Charter Academy, will be the Student Marshals.
A PSC graduate, Carlan has served on the Board of Trustees since 1999 and is past president-emeritus of the Pensacola State College Foundation
Known for her heartfelt commitment to education, business and social issues, she has guided dozens of nonprofit organizations throughout her career. Carlan was one of 25 Floridians appointed by former Gov. Charlie Crist to serve on the Department of Juvenile Justice Blueprint Commission in 2007.
She was appointed by former Gov. Jeb Bush to be the inaugural chair of the Florida Institute for Human and Machine Cognition. Carlan also is a founding member of the PACE Center For Girls Escambia/Santa Rosa and a John Maxwell Team Founding Member.
She has been recognized as Business Leader of the Year by both the Pensacola Business Journal and the Pensacola Bay Area Chamber of Commerce PACE Awards. She received the Leadership Pensacola Blue Angel Leadership Award, and the PACE Center for Girls Pioneer Award by the PACE State Board of Trustees for her years of service.
For family and friends who cannot attend, the events will be livestreamed at: Nursing Pinning ─ http://www.facebook.com/FirstPentecostalChurch and PSC Graduation ─ https://www.facebook.com/PensacolaStateCollege.
For more information on the nursing pinning and graduation ceremonies, call Sheila Nichols, the College's executive director of marketing, at 850-484-1428.