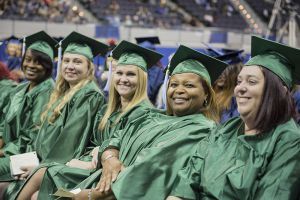 Published: 12-08-2021
Nursing pinnings, GED graduation to be held Dec. 9
Mary Mabins, Pensacola State College
Pensacola State College will hold nursing pinnings and graduation ceremonies on Thursday, Dec. 9, and Sunday, Dec. 12, respectively.
Summer and fall Bachelor of Science in Nursing, Associate of Science degree in Nursing and Practical Nursing program graduates will be pinned during a 3 p.m. Dec. 9 ceremony at First Pentecostal Church, 6485 Pensacola Blvd., Pensacola. Dr. Troy Tippett, a Pensacola State College District Board of Trustees member, will be the guest speaker.
A retired neurosurgeon and medical director of the Neurosurgical Group of Pensacola, Tippett earned his undergraduate degree from the University of Missouri and completed medical school and neurosurgery residency at the University of Tennessee in Memphis. He is board certified by the American Board of Neurological Surgery and served in the U.S. Army Reserve and the Tennessee Air National Guard.
Adult Education graduation is set for 6 p.m. Dec. 9 in the Delaino Student Center, Building 5, on the Pensacola campus. Richard Carr, a PSC Humanities and Social Science instructor, will be the guest speaker.
A Pensacola native, Carr earned his GED and is a PSC graduate. He received his graduate training in psychology at the University of West Florida and sociology training at the University of Alabama-Birmingham.
The PSC commencement ceremony is scheduled for 3 p.m. Dec. 12 in the Pensacola Bay Center. Julian MacQueen, a Pensacola State College District Board of Trustees member, will be the guest speaker.
Pat Horacek, PSC mathematics professor, will be the Grand Marshal. Michael Payne, assistant professor of business, and Kenneth Phillips, the Performing Arts department head, will serve as Faculty Marshals. PSC Registrar Stephanie Denmark and Karen McCabe, director of the Santa Rosa Center, will be the Student Marshals.
Students are limited to eight guests each. Attendees are encouraged to wear face masks and follow social distancing protocol at the nursing pinnings and graduation ceremonies.
MacQueen is the founder and chairman of Innisfree Hotels, the Gulf Breeze-based hotel development and management company that owns and operates a collection of hotels in the Southeast.
Since founding Innisfree Hotels in 1985, the company is currently ranked as the 42nd largest hotel company in the United States and the seventh largest employer in the Pensacola metropolitan statistical area.
Born in Birmingham, Alabama, MacQueen graduated from the University of South Alabama with a bachelor's degree in psychology. MacQueen and his wife, Kim, are members of the Bahá'í Faith, founding life-changing programs, such as University of South Alabama MacQueen Alumni Center, MacQueen School of Hospitality at the University of West Florida, Parent University of Pensacola, Equality Project Alliance for Anti-Racism, Escambia Children's Trust, and more.
Also, Innisfree Hotels funds Dixon School of Arts & Sciences, a private, K-eighth-grade school serving at-risk youth living in Escambia County.
Recognized for his hotel management prowess and philanthropy, MacQueen has been awarded with the 2018 Lifetime Achievement Award Florida Restaurant and Lodging Association, 2019 Elvin McCorvey Education Award by NAACP, and 2020 Florida Trend 500's Most Influential Business Leader in Hospitality.
For family and friends who cannot attend, the events will be livestreamed at:
Nursing Pinning ─ http://www.facebook.com/FirstPentecostalChurch
GED Graduation ─ https://www.facebook.com/PensacolaStateCollege
PSC Graduation ─ https://www.facebook.com/PensacolaStateCollege