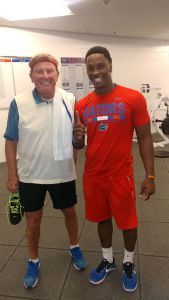 Published: 06-19-2018
Like many high school athletes, Robert Clay had aspirations for a college sports career. His lifelong dream was to play football at the University of Florida, but the odds were stacked against him.
No one in Clay's immediate family had ever attended college. Not only that, but according to the NCAA, less than 3 percent of high school football players advance to a Division I program.
After graduating from Pine Forest High School in 2014, Clay remained undeterred by the odds, even though he knew he wasn't quite for a large university.
"I've seen some other people who go from high school straight to major universities and they aren't prepared for that environment," he said. "Some of them weren't ready for that giant leap, and some of them didn't make it."
Clay believed attending Pensacola State College could help him get where he wanted to go.
"I got my start through the Educational Opportunity Center," he said.
The TRIO Educational Opportunity Center (EOC) at Pensacola State assists first-time, first-generation students with modest incomes, enabling them to either enroll in a post-secondary institution for the first time or to return to high school or post-secondary education. The program is open to adults 18 and older who live in Escambia or Santa Rosa counties.
"I immediately saw that Robert had the desire to be successful and I immediately saw that he had the ability to be successful.  He just needed encouragement and some gentle guidance," recalled EOC Student Services Specialist Wanda Wood.
She said that Clay, the oldest child in his family, worked part- and full-time jobs, even while he was carrying a full course-load at school. She noted Clay didn't have an easy road, but he was driven by the desire to make a better life for himself and his family.
That desire is a common thread among the students the EOC staff sees in their offices.
"They're motivated or they wouldn't be here," said EOC Program Director Rebecca Causey. "They're looking for something better in their lives, but they're scared and confused and just absolutely unaware of what do to first."
Working closely with the EOC staff, Clay was able to formulate a plan of action and follow specific steps, but he also had continuing support.
"If they stub their toe or get confused or if they forget something, they can come back to the EOC specialists like Wanda … and Robert did.  He did because he was so motivated to do what he wanted to do," explained Causey.
"When I was struggling with some of my classes, my EOC counselor encouraged me and sent me to Student Support Services so I could use the tutoring lab," said Clay, adding he utilized the math lab every day. That resource, along with Pensacola State's small classes and personalized attention from his instructors, gave him the tools he needed to get where he ultimately wanted to go.
After earning his associate degree from Pensacola State, Clay was accepted at UF as a student for the fall 2017 semester, where he is majoring in food and resource economics.
Acceptance to the university wasn't the pinnacle for Clay, though. There was still one more component to his plan. This past spring, Clay tried out for the football team at UF as a walk-on and earned a spot as a red-shirt junior.
"It is amazing being out there among the nation's top athletes," said Clay, who plays cornerback and sports the No. 26 jersey. "I feel like I'm living a dream."
Clay said since he's been in Gainesville, he has encountered two of his tutors from Pensacola State who also went on to attend UF.
"I used to sit with Brett and Matt in the math lab and tell them I wanted to play here and they told me that it was their plan to go to school at Florida, too.  All three of us did it!" declared Clay.
While Clay is proud of his achievements, he wants to make sure he gives credit to everyone who helped him reach his goals.
"I want to give a shout-out to the people in the EOC, to all the people who helped me out.  I'm just so thankful, so grateful."
Wood says Clay is the one who did the work, the EOC just provided him with encouragement.
"A lot of people need that. They already have the raw materials within them for success," she said. "They just need some guidance in the right direction … they need that hope. They need for people to believe in them long enough for them to believe in themselves."
Wood added that Clay continues to encourage his family and friends to visit the EOC at Pensacola State to get started on their college careers.  He recently brought one of his sisters in to begin developing her own plan for college.
"Robert is a great role model," Wood added.
Clay acknowledges that being a role model is not a responsibility he takes lightly because he knows his younger siblings are looking up to him.
"It makes me feel like I've got to set the bar high. It makes me feel good to show them that I can do it and they can too," he said.
For more information on the TRIO Educational Opportunity Center at Pensacola State call (850) 484-1961 or visit www.pensacolastate.edu/trio/eoc.