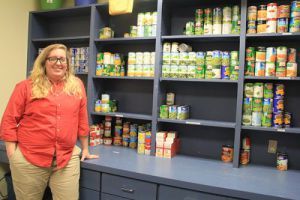 Published: 01-23-2018
A 2015 study revealed that nearly 13 percent of community college students face food insecurity at some point during their academic careers.
However members of Pensacola State's Service Learning Committee have made it their mission to ensure no one – student or employee ─ in the college family goes without.
This month, the committee reopened the college's Food Pantry after nearly 170 food items and $10 in cash were donated during a Welcome Back Week Food Drive held on the Pensacola, Milton, Warrington campuses and South Santa Rosa Center.
The Food Pantry was started about two years ago by Jessica Johnson, the college's AmeriCorps VISTA volunteer, said Makenzie Johnson, coordinator of Student Engagement and Leadership and a Service Learning Committee member.
"Initially, the Food Pantry partnered with Manna Food Bank but it became inactive because there was a shortage of volunteers to work at it," Makenzie Johnson explained.
"There is still a need for the food pantry on campus so we took it upon ourselves to reopen it. Many people don't realize how pervasive food insecurity is – especially among college students."
Food insecurity ─ defined as reduced quality of diet and access to nutrition ─ has surfaced as a national health concern. The 2015 Urban Institute study, the first of its kind, relied on a data from a national survey conducted monthly by the U.S. Census Bureau and the U.S. Bureau of Labor Statistics.

Researchers found food insecurity was even worse during the economic downturn that started in 2008. From that year through 2014, an average of roughly 21 percent of those households with community college students indicated that they couldn't access proper food all the time.
Along with providing grocery items (meats to dairy items, canned goods, microwave meals and other nonperishables), the food pantry also provides some coats and jackets, blankets, personal hygiene items, household cleaning items and more.
Johnson said more food drives will be held but there is also an urgent need for more volunteers.
"Our college family is very compassionate and wants us to have even more food drives, and we are hoping to find another partner," she added.
Located in the Pensacola campus Student Center, Building 5, the Food Pantry is open 8 a.m.-4:30 p.m. Monday through Thursday and 8 a.m.-3:30 p.m. on Friday.
"There is no criteria however first-time applicants must fill out a Food Request Form which is a short application which is kept confidential," Johnson said.
To make a donation to the food pantry, call Johnson at 850-484-1020 or email majohnson@pensacolastate.edu.
"Many people don't realize we have reopened but we want members of the PSC family to know that if there is a need, we are here to help," Johnson added.