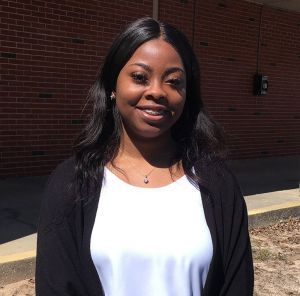 Published: 03-10-2021
Troy Moon, Pensacola State College
Khadija Fields stood in the back of Pensacola State College's Hagler Auditorium listening to a Pen Air Federal Credit Union representative talk to about a dozen students about making the upcoming spring break not only safe, but affordable.
Fields wasn't on the stage, but it was her show. She's the PSC Title III: Pirate PATH to Success Financial Literacy Coordinator. She regularly brings workshops to the College to help students navigate financial concerns and hardships.
A PSC alumna, Fields began her position in September.
"We try to help students financially – from learning how to budget to information on student loans and the types of loans," she said. "We also help provide them with information on scholarship and grants, because some of our students might not know they qualify. We don't want them taking out loans if they don't have to. It will be too much of a burden."
Only six months into her position, Fields has already made an impact.
"As a Pensacola State College alumna, Khadija definitely identifies with students and their financial needs," said Martha Vignes, PSC Title III: Pirate PATH to Success Grant Activities Director.
"Some students might not make good financial choices, and when that happens, sometimes school is the first thing that gets dropped. She's doing a very good job to raise awareness about issues and concerns that are important to our students."
The Pirate PATH to Success program serves first-time college students, first-generation-in-college students, at-risk and financially-challenged students.
"We want students to not only come to Pensacola State College, we want them also to be successful and graduate," said Fields, a Pensacola native. "We don't want them to start then have to stop because of financial issues."
The "Spring Break" seminar is just one of the events Fields has brought to the College.
She has organized financial aid workshops and is working on activities and events for "Money Matters Week," a virtual offering of financial tips and information for students.
Fields also is creating a PSC Financial Planner for the 2021-2022 academic year that will have budgeting and savings information and tips, as well as an academic calendar and information on resources, advisors and more.
"We want students to have all the information in one place,'' Fields said of the hard-copy Financial Planner. "It's just another tool we can provide to help the students be successful."
Using her marketing education and background, she hopes to help more students navigate personal financial concerns and anxieties.
"She's very creative," Vignes said of Fields. "She's designing logos to use on banners on campuses. She's also working with (PSC) Marketing to develop materials and graphics for 'Money Matters Week.' "
Fields earned an Associate of Science degree in Business from Pensacola State, and a Bachelor of Science in Business Administration with a major in Marketing from the University of West Florida.
"Pensacola State is a great school, and it is affordable," Fields said. "Not only that, the College is great at providing so many resources to the students – financial advising, academic advising, access to the Food Pantry and so much more. We just want to make College go as smoothly as we can for the students. They're the priority."