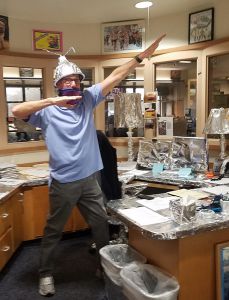 Published: 04-15-2021
Troy Moon, Pensacola State College
Caresse Galiza has already started the celebrating – and the mourning – at Pensacola State College's Milton campus.
Galiza, who has worked for more than 20 years at the Milton campus L.I.F.E. Fitness Center, is celebrating the career of longtime PSC instructor and L.I.F.E. Fitness Center Coordinator Butch Branch, who retires on April 30 after 23 years at PSC. She's already festooned his office with dozens of colorful balloons and sticky note decorations. A week earlier, she decorated his office in tin foil.
But she's mourning Butch's departure as well.
"He means everything to this place," Galiza said. "He's irreplaceable. I'm going to miss everything about him – his leadership, his friendship. He's just…"
Her voice cracked a bit.
"I'm getting emotional," she said, fighting back tears. "I can't say anything else right now. I can't."
Branch, an affable, outgoing fella, has that effect on people. And it's going to be the people of PSC that he misses the most.
"The people I work with and the students are going to be what I miss most," Branch said. "I work with a great group of people. The administrators have always given us a lot of support, and so have the people in the community who come here all the time. That's what I'm going to miss. This College means a lot to me and my family."
He isn't the only Branch at PSC. His wife, Jeanne Branch is an assistant professor in the Business Department and their daughter Michelle Branch is a PSC Financial Aid coordinator.
"It's not just me," Branch said. "PSC has been important to the whole family. The whole community even."
Branch, a Navy veteran, is a PSC – actually, it was Pensacola Junior College then – alumnus himself.
He taught at PJC as an adjunct professor from 1986 through 1990, earning a PSC Teaching Excellence Award in 1989. The Branches left Pensacola for 16 months, returning in late 1991. Branch then returned to PSC as an adjunct instructor and again was honored with a second Teaching Excellence Award in 1996. In 1998, he became coordinator of the Milton L.I.F.E. Fitness Center.
"It's a great facility that's important to the community," the 67-year-old Branch said. "It's an awesome place that requires a lot of attention to oversee."
He won't be overseeing the facility come May, but he still plans to see it plenty. His retirement plans?
"Hoping to come out here as much as I can to exercise" said Branch, who lives in Pensacola. "I'm hoping to still start my day out here as often as I can."