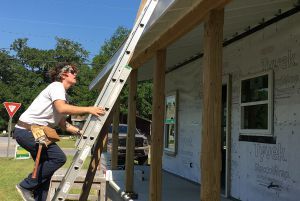 Published: 06-18-2020
Troy Moon, Pensacola State College
Some Pensacola State College students work from the classroom. Others work from the dining room. Or bedroom. And no, we're not talking Zoom meetings.
We're talking about building those bedrooms and dining rooms and creating homes for the future. These are students enrolled in carpentry, welding, electrical and HVAC (heating, ventilation and air conditioning) programs at PSC – the builders of tomorrow. Even though some are already builders today.
Brandi Duplechain is a PSC carpentry student who already owns and operates a home restoration company.
"I grew up flipping homes,'' Duplechain said. "I did this program because I wanted to build from the ground up. I wanted to know how to do it."
Carpentry, welding, electrical and HVAC are all three-semester programs where students earn Vocational Certificates and industry certifications throughout the programs.
"There's definitely a demand for these programs in our area,'' said Michael Listau, PSC Workforce Director. "These are programs that employers are looking to hire from."
Listau said the Building Trade programs offer vocations that can help stimulate the pandemic-slowed economy.
"In the current situation of society, these workforce type programs are how you get people to work,'' he said. "They're short-term programs that prepare students for a high-wage, high-skill type of position."
And Building Trade students work on those skills in live projects. Currently, students from the Carpentry, HVAC and Electrical programs are building a 600-square-foot energy-efficient mini-house for the Escambia County Housing Finance Authority, which is financing the project. When complete, the home will be sold to a qualified, first-time homeowner at an affordable price.
The home is hurricane and storm resistant and features a 300-square-foot wrap-around covered porch and solar panels to reduce electrical costs. On a mid-June morning, both HVAC and carpentry students were at the Tarragona Street home working on the project. HVAC Program Coordinator Glen Gorman was inside the structure with a small group of students discussing upcoming HVAC installation of the home. Outside, Carpentry Program Coordinator Tony Grahame worked with his students on the roof frame.
"It's one of the few programs around the country that teaches students how to design and build well-crafted, healthy, comfortable, safe, resource-efficient, durable and resilient houses,'' Grahame said. "It's very hard to find that at a college."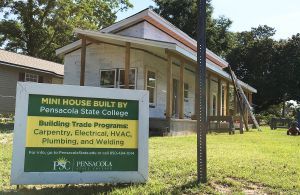 Grahame said some students who earn a Building Trade Vocational Certificate will even go on and pursue the Architectural Design and Construction Technology A.S. degree offered at PSC.
"There are very few programs that teach you how to build a high-performance house and allow you to physically come out and build it,'' he added. "I think our programs are among the best you can find."
Most of the Building Trade programs offer day and night class options.
"We have embedded certifications into the programs and students earn those certifications as they go through the program,'' Listau said. "That makes them immediately employable."
HVAC student Nicky DaVico works as a carpenter at Navy Federal Credit Union, but is learning about heating, ventilation and air conditioning so he can move into a better position at the credit union.
"I want to move into the mechanical shop and work as an HVAC mechanic or apprentice,'' DaVico said. "And Mr. G. (Gorman) does a great job teaching us all the different aspects. It's a really good program."
Carpentry student Dannon English has spent 17 years as a painting contractor.
"My intent is to get training to become a residential homebuilder,'' English said. "You learn construction from ground to finish. If you're serious about learning how to construct and build properties that are sustainable, green facilities, this program will definitely help prepare you."
For information on Pensacola State College's Building Trade programs, call 850-484-2586.
PHOTO: PSC carpentry student Brandi Duplechain climbs a ladder at the mini-home PSC Building Trade students are constructing.
PSC Building Trade students continue work on mini-home

Pensacola State College's Building Trade students are back on Tarragona Street, continuing work and construction on a mini-home, where all activities had to be halted because of the COVID-19 pandemic. Now, students from PSC's various building trade programs, including carpentry, HVAC and electrical, are back on site, and learning and working on their trades. For program information, call 850-484-2586.

Posted by Pensacola State College on Wednesday, June 17, 2020