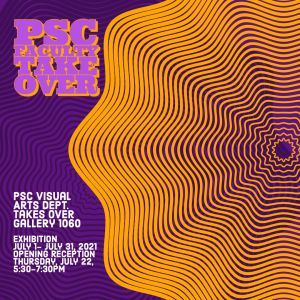 Published: 07-07-2021
Troy Moon. Pensacola State College
In the spring, they came here. This month, we go there.
The Pensacola State College Visual Arts Department and the First City Art Center always have had a strong relationship. That bond was strengthened this year with two different exhibits showcasing the work from both institutions.
Eight members of the Pensacola State Visual Arts Department are currently exhibiting their works in Gallery 1060 at the First City Art Center at 1060 N. Guillemard Street. A reception featuring the PSC artists will take place at 5:30 p.m. on July 22. The exhibit runs through July 31.
Artists from First City Art Center exhibited at PSC's Anna Lamar Switzer Center for Visual Arts from late February through early April.
The upcoming exhibit at First City is titled "PSC Faculty Take Over," and features work by seven PSC instructors and PSC Visual Arts department head Alaina Plowdrey.
PSC Visual Arts instructors who are featured in the exhibit are:
• Micah Cain, ceramics
• Keith Wall, graphic design
• Kristen Regan, photography
• Chris White, photography
• Jimmy Rhea, sculpture
• Paula Work, foundations
• Julie McGrath, art history/illustration
"I think these collaborations enhance our arts community," Plowdrey said. "It's nice to exhibit in different environments and maybe reach a different audience."
Photography instructor Chris White has three pieces in the "PSC Faculty Take Over" exhibit – two are traditional photographs while a third piece is a multi-media piece.
"It's always good for the faculty to display work locally so the community knows what a great resource we have, both academically and professionally," White said. "It's an expression of the relationship that the Visual Arts department has had with First City since its creation. We've worked closely with them over the years."
First City Arts Center events manager Kelly Leitermann said the collaboration benefits both groups.
"Anytime you can branch out and show your work in a different location is always beneficial," she said. "The PSC Lamar Studio is stunning, but not everyone knows about it. It's the same with Gallery 1060. So, the trade-off is pretty nice."