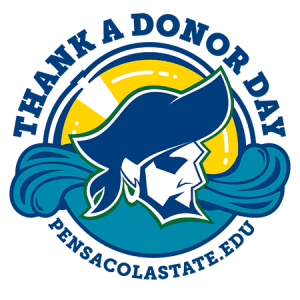 Published: 03-05-2020
Students can sign cards on Pensacola, Warrington, Milton campuses to show their appreciation
Troy Moon, Pensacola State College
Without donors and their generous gifts, Pensacola State College would be ─ really, we don't even want to think about it too much. It's not a good thought.
But be assured, there would be fewer scholarships, fewer programs, fewer facility upgrades, less success. Less of everything.
That's why on Wednesday, April 1, Pensacola State students will have their own chance to say "Thank you" to the numerous donors who support every aspect of the College.
Outdoor tents will be set up on the Pensacola, Milton and Warrington campuses where cards will be available for students to write a thank-you message to a donor.
Thank a Donor Day events will be 8 to 10 a.m. at the Student Services building, Bldg. 4200, on the Milton campus, featuring a breakfast of doughnuts, breakfast bars and juices.
On the Warrington campus, events will be from 11 a.m. to 1 p.m. at the Student Center, Bldg. 3600, featuring a lunch of pizza and Coke products.
The Pensacola campus will welcome visitors from 3 to 5 p.m. at the Library main entrance, Bldg. 20, with snacks of chips, candy, cookies and Coke products.
"There will be hundreds of cards so that students can write their own individual 'Thank you,' " said Andrea Krieger, PSC Executive Director of Institutional Development. "Faculty and staff can write a message as well, and then we will send them out to individual donors."
Krieger said it's important that donors understand the impact of their donations on students.
"It's so donors can feel a personal connection," Krieger added. "It allows them to see the impact through these personal messages. There's a huge benefit to that."
PSC student Stephen Walls, a gonzo culinary explorer who specializes in "Big Food," is ready to send a message.
"Donors are extremely important in education," said Walls, who cooks under the moniker "Walls Clay." Walls said donors "touch so many lives on so many levels. I am in the GED program and we also depend on funding. Thanks to donors I have a second chance to get my fundamental education and for that I'm extremely grateful."
For more information, call 850-484-1560.
WANT TO GO?
WHAT: Thank a Donor Day events
WHEN & WHERE: Milton Campus: 8-10 a.m., Student Center, Bldg. 4200; Warrington Campus: 11 a.m.-1 p.m., Student Center, Bldg. 3600; Pensacola Campus: 3-5 p.m., Chadbourne Library, Bldg. 2.
COST: Free.
DETAILS: 850-484-1560.