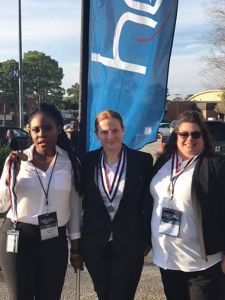 Published: 01-29-2019
Five Pensacola State College HOSA ─ Future Health Professionals student-members were competition winners at the Region 1 HOSA Spring Conference held on the Pensacola and Warrington campuses on Jan. 18.
The first-place winners in the post-secondary category were:
Danielle Suggs, medical math
Matthew Parker, pathophysiology
Daniel Kipp, physical therapy
Amanda Stores, pharmacy science
Christina Zaccardi, veterinary science
The Pensacola State College HOSA winners will advance to the state competition to be held March 28-31 in Orlando.
The competitive events program is designed to motivate HOSA members and provide a system for recognizing the competencies developed by members through health science and biomedical science class instruction, related job training and HOSA related activities.