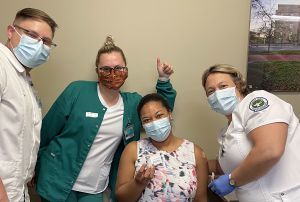 Published: 02-09-2021
Troy Moon, Pensacola State College
The front line of the COVID-19 pandemic battle recently received reinforcements from Pensacola State College's nursing program.
More than three dozen PSC preceptor nursing students who graduate this spring already have begun administering COVID-19 vaccines to patients in area hospitals.
In January, students began giving the vaccinations at Baptist Hospital. This month, students are administering the vaccinations at Ascension Sacred Heart Hospital.
"This pandemic will be written about in our history books someday," said PSC nursing student Anjelica Desoto. "We are part of an effort that is going to be effective in combating the virus. It's amazing."
Wanda McNeal, PSC Assistant Director of Nursing, said students are administering first and second doses of the vaccine.
"This is their community," McNeal said of the students, who will earn Nursing RN Associate in Science degrees in May. "I think they take pride in knowing they're helping in this worldwide effort."
PSC nursing student Morgan Faria said the pandemic kept students from working in local hospitals as is usual for preceptor nursing students getting ready to go into the field.
"We were just excited to be with patients," Faria said, "and to be doing something in our field."
Fellow student Audrey Carper agreed.
"We were the first class of nursing students to get quarantined," Carper said. "We went on spring break and never really came back until now. So going out there to help is great for us. And we know we're part of the history of the pandemic now."
Some of the students already had experience administering flu injections before their experience with the COVID-19 vaccines.
"It didn't feel any different than giving the flu shot," said PSC nursing student Joseph Prado. "But it was nice to get back into a hospital setting."
He said some of the patients were nervous about the injections.
"More people were concerned about the side effects of the vaccine," Prado said. "There might have been a few nervous about students giving such an important vaccine, but most were more worried about the side effects."
Here are the Pensacola State College nursing students who have or will administer the COVID-19 vaccine at area hospitals:
Joseph Prado
Alicia McCullough
Johanna Dela Cruz
Alexia Weller
Janefer Ogborn
Tessa Phillips
Kaitlyn Bullock
Elizabeth Equihua
Stacey Baker
Faith Rolfe
London Taliaferro
Mikayla O"Neal
Rebecca Biddle
Anjelica Desoto
Lisa Coan
Oprah Long
Connie Mason
Kailee Mcclamore
Devan Wolfe
Brieann Oliver
Christine Crews
Morgan Faria
Audrey Carper
Mark O'Brien
Sarah Chau
Dianna Duncan
Ayana Thompson
Lynsie Chenoweth
Michael Tice
Carley Pope
Pamela Kerr
Kinley Murcko
Kaitlyn Steeger
Katelin Mills
Daniel Melvin
Gemma Dobson
Kaitlyn Bullock
Shannon Cook
Neal Van Der Wall
PHOTO: PSC nursing students Michael Tice, Lynsie Chenoweth and Dianna Duncan with PSC nursing instructor Kerriyan Harper, sitting. Duncan administered a dose of the Covid-19 vaccine to Harper, who is also a Clinical Educator at Baptist Healthcare.