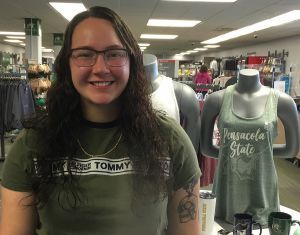 Published: 07-23-2021
Troy Moon, Pensacola State College
When Cassidy Gadsby was in high school back in Pennsylvania, she heard all about the scholarships being pitched to upcoming Class of 2018 graduates. Then 17, Gadsby had already enlisted in the United States Navy in the Delayed Entry Program and was just waiting to graduate to start her military career.
"I thought 'I'm going into the military,''' she said. "I don't need any scholarship."
Times change. Situations change. Goals change.
Today, Gadsby is an active duty Navy Corpsman and a Pensacola State College honor student. On July 14, she was named a 2021 Coca-Cola Military Leaders of Promise Scholar, one of 25 active duty members nationwide to receive the honor and the accompanying $1,000 scholarship.
The scholarships are provided by the Coca-Cola Scholars Foundation, which awards 200 scholarships annually – 25 of which are reserved for active duty military or veterans. All scholarship recipients must be members of their schools' Phi Theta Kappa Honor Society chapters.
"I had never won a scholarship or anything like that,'' said Gadsby, who is taking general education classes at PSC. "It's neat to selected for something like this."
Gadsby has a 3.5 grade point average and is a member of the PSC Pensacola campus' PTK chapter Theta Chi.
"This is great news,'' said Theta Chi chapter adviser Jeff Wooters. "I think it shows the caliber of student that Cassidy is that she was one of only 25 military students who were selected from across the whole country to receive this scholarship."
Gadsby is currently taking three classes, but, because of the scholarship, hopes to take four or five classes in the fall. She's currently a Navy Corpsman at Naval Hospital Pensacola and plans on staying in the health field after she's discharged from the Navy in 2024. She has been in Pensacola for more than three years.
She isn't yet sure where she will pursue her bachelor's degree, but plans on studying Healthcare Management at the university level.
"I like the business and administrative side of hospital work,'' Gadsby said. "I work some patient care and administrative work and I think I'm better at the administrative side. But I love healthcare work and the medical side. I'm really interested in progress and advances in medicine and healthcare."
She said that even at a young age, she knew she wanted to be in the healthcare world.
"Growing up, I had family members with cancer,'' she said. "And my wife has a rare genetic disorder so the medical fields is something that attracts me. My mom was in healthcare and my dad a teacher. I have a lot of nurses and doctors in my family. So I knew this would be a career for me."
Wherever she goes to school after PSC, she hopes she will be able to primarily study online. Most of her PSC classes have been online classes.
"I've really loved PSC,'' she said. "Everyone is so easy to work with."
She had previously taken an online course at Purdue University.
"I didn't like it as much,'' Gadsby said. "It wasn't as well organized at the PSC online classes. The teachers here are a lot more helpful, even if you are an online student."