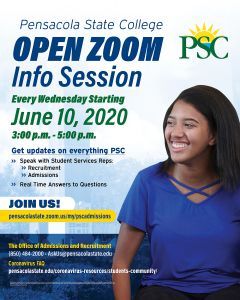 Published: 06-09-2020
Troy Moon, Pensacola State College
Pensacola State College recruiters along with admission and Student Services representatives will be available to talk to interested students in Open Zoom Info Sessions each Wednesday.
Anyone interested in attending the College is invited to join the open sessions from 3-5 p.m. each Wednesday, beginning June 10.
PSC officials will be on hand to answer questions in real time on numerous topics, including available scholarships and resources to assist students, as well as all admissions and recruiting.
"The purpose is to create another platform and have an open discussion with prospective students,'' said Scott Bemiss, PSC Recruitment Coordinator, who will be one of the college officials participating in the Zoom sessions. "We're going to have an agenda of information, and we're hoping potential students pop in at their convenience."
Bemiss said the Zoom session will have chat features where various links will be provided, as well as "breakout rooms" where PSC officials can have one-one-one conversations with students considering PSC.
"We're excited to have this opportunity to have another avenue to meet and talk to students,'' he said. "It's just another tool we have to assist students."
Bemiss said the sessions will last at least through the end of the summer term and then college officials will evaluate the sessions and decided whether to use the Open Zoom Info Sessions in the future.
To join the discussion, go to pensacolastate.zoom.us/my/pscadmissions. Sessions are from 3-5 p.m. each Wednesday.