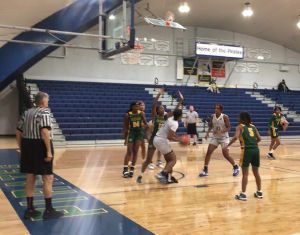 Published: 01-15-2021
Troy Moon, Pensacola State College
Play ball! Like, starting now!
The Pensacola State College volleyball team just played a scrimmage earlier today – Friday, Jan. 15 – against Gulf Coast State College. Later, both the women's and men's basketball teams played their first scrimmages of the season in PSC's Hartsell Arena.
After a fall in which all sports except women's cross country were shutdown because of the COVID-19 pandemic, the spring season has five PSC teams – baseball, softball, volleyball and men and women's basketball – starting their seasons this month.
"We finally are able to get going, and we have all of them going," said PSC Athletic Director Bill Hamilton, who announced his retirement in an emotional press conference a day earlier. "We're ready to go, but it's going to be a challenge. We're going to have a bus shortage, a van shortage and a driver shortage with all the games. And it's been a challenge for the kids, having to deal with all the changes – remote learning and family issues. It's been tough."
Though the teams are back competing, they'll be doing it, largely, without the full support of fans. Baseball and softball will allow 50 percent capacity attendance, but there will be no general admission availability for volleyball and basketball games. There will be a limited number of passes issued for the indoor sports, going to boosters and, on a first-come, first-serve basis, to students, staff and faculty.
Temperature checks will be issued to all who enter the Lou Ross Center, home of the PSC Athletic Department and Hartsell Arena.
"We are so excited," said PSC Volleyball Head Coach Jennifer Belarmino, minutes before her team's scrimmage. "We're ready to get rolling. We practiced last week twice a day. We're ready to kick off the season – finally."
To see complete schedules and the College's COVID-19 guidelines relating to athletics, go to https://athletics.pensacolastate.edu/landing/index.