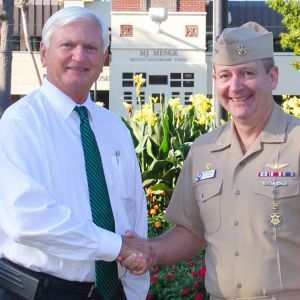 Published: 02-27-2020
Troy Moon, Pensacola State College
Once again, Pensacola State College has been acknowledged as a top school for military veterans.
PSC was named one of 625 "Military Friendly Schools" for 2020-2021 by VIQTORY, a veteran-owned company that connects former military members to civilian employment and educational opportunities. This is the 11th consecutive year that VIQTORY has named Pensacola State College a Military Friendly school.
In November, Pensacola State was named one of the 2020 "Best for Vets Schools" by the Military Times.
"This community loves veterans," said Bill Tice, director of the college's Veterans Student Support Services. "Pensacola State College is very pro-military. We're fortunate to have two TRIO programs that focus specifically on veterans."
TRIO is a federally-funded initiative that includes eight programs targeted at specific demographics. PSC's TRIO programs that assist veterans are Veterans Student Support Services and Veterans Upward Bound.
"With nearly 20 percent of our total enrollment either veterans and their dependents or active duty personnel and their dependents, it's extremely important for us to let the military community know that we have scholarships, special support services, grants – there's a whole litany of services – that are here to help them succeed and move forward," said PSC President Ed Meadows.
VIQTORY rates schools as "Military Friendly" based on six criteria: Academic Policies and Compliance; Admissions and Orientation; Culture and Commitment; Financial Aid and Assistance; Graduation and Career; and Military Student Support and Retention.
PSC exceeded standards in all six categories.
The college scored best on "Culture and Commitment," with the college rating exceeding the "Military Friendly" benchmark standard by nearly 95 percent.
"I think this award is indicative of the success of the students with military affiliations that attend Pensacola State College, whether they are active duty, veterans, or dependents of someone with an affiliation," said Michael Johnston, the College's executive director of Institutional Research. "Our military students achieve great success while being enrolled, they have impressive graduation rates and have no student-loan debt. This allows them to enter the workforce or advance in their current roles with a quality education."
Because of the relationship of Northwest Florida to the military, PSC offers numerous services to help active duty military, veterans and military dependents to succeed:
Specific mentoring/onboarding programs for new military/veteran students
Formal mentoring or advising program in which faculty or staff members who are current or former members of the military mentor students who are military service members or veterans
A minimum of three full-time veteran counselors or advisors on staff.
Student Veterans Association (SVA), which is on campus, for military service members or veterans
Career planning services for military service members or veterans
Training of staff to support military/veteran students
Academic support/tutoring
Academic advising
Study skills workshops
Financial aid counseling
Career planning services
Assistance in finding work-study opportunities
Assistance in finding non-work study employment
Assistance in integrating with non-veteran groups and services on campus
Transition assistance
Accommodations for military students with disabilities.
Meadows said it is important for Pensacola State to earn the "Military Friendly" designation "because of the number of military that we have in our area and the number of veterans who have retired to Pensacola and Northwest Florida."