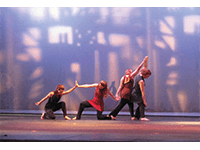 Published: 01-20-2016
Pensacola State College Lyceum Series presents the SWERVE/dance Company performance at 7:30 p.m. Saturday, Jan. 23, in the Ashmore Fine Arts Auditorium, Building 8, on the Pensacola campus.
Celebrating 20 years, SWERVE/dance is a modern dance company comprised of professional dancers from varied performing backgrounds who create, perform and present contemporary dance. SWERVE is under the artistic direction of LaVonne French and Elizabeth Bradford.
Highlighting the evening are performances of "Bound," choreographed by Bradford, and "What the…?" choreographed by French.
New works by company members include "Long Journey Home: Immigration Suite" by Stephen Steele Jackson, "When She Went Away" by Ursula Pegg, "Hold On" by Katy Terry and Shelby Weeden, and "The Escape" by Crystal Wright.
Ticket are $11, adults; $9, seniors 60+, children and non-PSC students; $7, PSC staff/faculty/retirees and PSC Seniors Club members; and free for PSC students.
Purchase tickets by calling the Lyceum Box Office at 850-484-1847; online at www.pensacolastate.edu/lyceum or at the Lyceum Box Office, Building 8, Room 861, from 8:30 a.m. to 4 p.m. Monday through Friday.
Tickets are also available at the door one hour before a performance.
For more information, call the Lyceum Box Office at 850-484-1847.