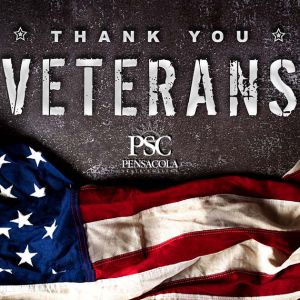 Published: 11-10-2021
Troy Moon, Pensacola State College
Pensacola State College will close on Veterans Day – Thursday, Nov. 11 – to honor the College's military veterans and all veterans of the United States military.
PSC's own Robb Gregg, the director of Veterans Upward Bound, is Grand Marshall for the annual Veterans Day Parade in Downtown Pensacola. The parade begins at 9 a.m. on Veterans Day and will feature a PSC float – borrowed from a Mardi Gras krewe – and two PSC vans.
Since the College will be closed on Veterans Day, the PSC Student Veterans Association will host a Veterans Day Celebration BBQ beginning 11 a.m. on Tuesday, Nov. 9 at the pavilion between Buildings 5 and 6 on the Pensacola campus. The PSC Students Veterans Association puts on the event with partnering groups PSC's Upward Bound and Veterans Student Support Services.
There will be ribs, hamburgers, chips and drinks provided for FREE beginning at 11 a.m. Donations will be accepted. Proceeds go toward future Student Veterans Association activities while a portion will go toward scholarships.
PSC veterans' groups will also participate in the Honoring Our Heroes Job Fair, sponsored by CareerSource Escarosa, from 10 a.m. to 2 p.m. on Wednesday, Nov. 10 at the National Guard Armory, 8790 Grow Drive in Pensacola.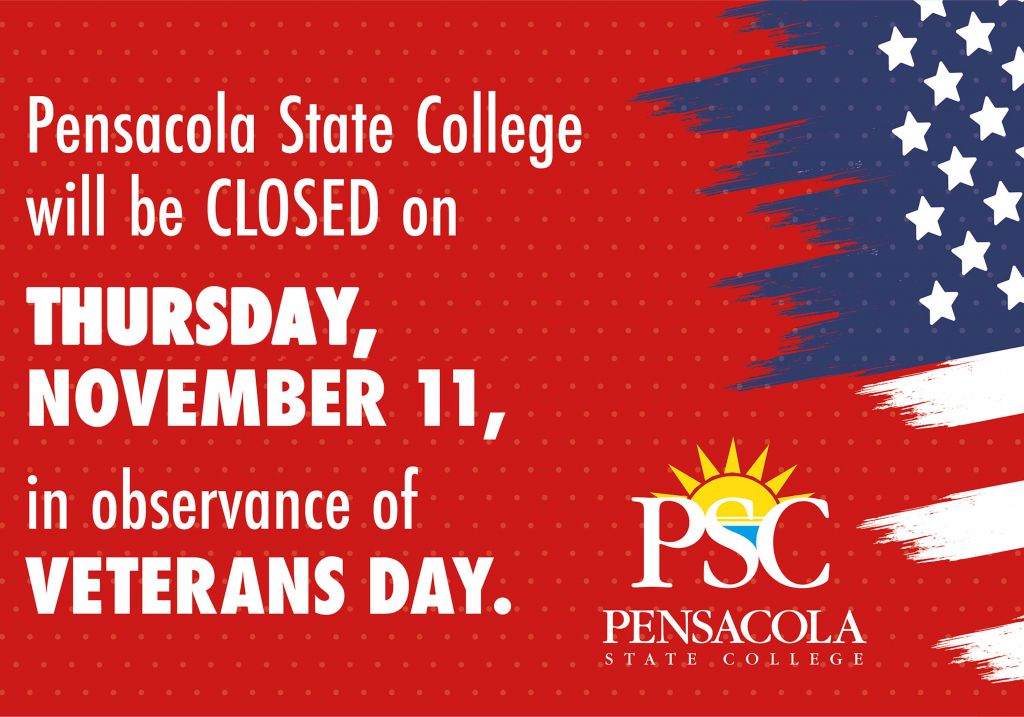 Veterans Day is important to the College, Gregg said, noting that 7 percent of PSC students are veterans.
"That percentage is doubled when you talk about dependents," said Gregg, a 24-year Navy veteran. "And those are just the veterans who are self-declared."
One of those student veterans is Denise Reyes, President of the Student Veterans Association. She served in the U.S. Army from 2013 through 2017 and earned her Associate of Arts degree from PSC using her military benefits. She is now in the PSC Bachelor of Science Business and Management in Health Care Management program.
She is also a PSC Veterans Service Specialist and helps veterans navigate the often-complicated financial aid and military benefits process.
"The transition for a lot of veterans can be difficult," Reyes said. "The military lifestyle is completely different than the civilian and college lifestyle."
She said that the Student Veterans Association helps "veterans find other veterans to connect with."
Among the services PSC offers to veterans are Veterans Upward Bound and Veterans Student Support Services. Veterans Upwards Bound is a federally funded TRIO program that provides veterans with college prep classes and/or GED courses at no cost. The program is open to veterans who are first-generation college students who are considered low-income according to federal guidelines.
Veterans Student Support Services is another TRIO program. It is also aimed at first-generation college students who are low income and military veterans. The program offers academic advising, career counseling, financial aid counseling and more.
For more information on PSC veterans' programs go to https://www.pensacolastate.edu/current-students/student-services/veterans/.
Watch the parade
The 2021 Veterans Day Parade, featuring PSC's own Rob Gregg as Grand Marshal, will air live beginning at 9 a.m. Thursday, Nov. 11, on BLAB TV and WBQP TV (see your carrier's lineup for channel location). It also will be streamed live on YouTube and Facebook, and will be archived thereafter on those platforms. It also can be streamed on wbqptv.com or wbqp.com.
The parade will be replayed several times on Cox Channel 2 in Pensacola and on Channel 36 in Fort Walton Beach, as well as WBQP TV, Cox Media and ECTV.