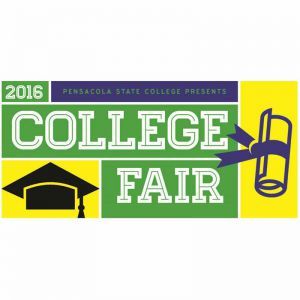 Published: 09-02-2016
More than 60 colleges and universities will have representatives providing information at the 2016 College Fair, Sept. 11 through 13, hosted by Pensacola State College, in conjunction with the Escambia and Santa Rosa County School Boards.
The three College Fair events are free and open to the public.
High school juniors, seniors and parents have the opportunity to ask questions about college admissions, financial aid, scholarships, academic programs, resident life/housing, and student life.
PSC students and parents are also invited to get answers to their transfer questions.
New York Film Academy and Johnson and Wales University in Rhode Island are among the College Fair participants along with institutions from the southeast, such as Reinhardt University, Rollins College, Florida State University, University of Florida, Mississippi State University, University of Mississippi, Louisiana State University, Auburn University and University of Alabama.
College Fair events are available at the following locations:
South Santa Rosa County Schools: 4 through 6:30 p.m., Sunday, Sept.11, PSC South Santa Rosa Center.
Escambia County Schools: 6 through 7:30 p.m., Monday, Sept. 12, Pensacola campus, Building 3, Lou Ross Health and Sports Center.
North Santa Rosa County Schools: 6 through 8 p.m., Tuesday, Sept. 13, PSC Milton campus, Building 4000, L.I.F.E. Fitness Center.
For more information, visit www.pensacolastate.edu/collegefair.