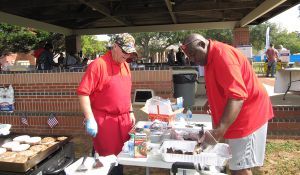 Published: 11-08-2019
By Troy Moon, Pensacola State College
U.S. Air Force veteran John Woods, Pensacola State College Veterans Upward Bound program academic coordinator, is dedicated to helping fellow veterans fill any educational gaps they need to remedy so as to enter college.
He's also dedicated to filling their bellies. Sometimes, he does both at the same time.
"One of the biggest things veterans need help with is deciding what they want to do," said Woods as he tended to hamburgers and hot dogs on the big grill at the Veterans Day BBQ on Nov. 5 on the Pensacola campus. "They need help picking a major or a degree field. Because they have to figure it out. Because the sooner you figure that out, the better you're going to do because you can then gauge your classes and program your classes according to what you want to do. That is a huge obstacle for a lot of people: just figuring out what to do when you grow up."
Tuesday's cookout was sponsored by the PSC Student Veterans Association, with support from PSC's Veterans Upward Bound and Veterans Student Support Services, and featured burgers, hot dogs, ribs, sides and even two patriotic cakes created by the PSC Culinary Arts Program – one was decorated as a U.S. flag; the other cake featured the service emblems of U.S. military branches.
Troy Watts, a Marine Corps veteran who is president of the PSC Student Veterans Association, said the event was to show support for PSC's veterans and dependents, as well as thank the college for its support of veterans. PSC was recently named the best regional college for veterans in Florida by U.S. News & World Report.
"PSC does a great job," Watts said. "Anytime a veteran needs something, PSC is always there for them."
Among the services PSC offers to veterans are Veterans Upward Bound and Veterans Student Support Services.
Veterans Upward Bound is a federally-funded TRIO program that provides veterans with college prep classes and/or GED courses at no cost.
"We prepare individuals to make them college ready so they will be successful once they do start college," Woods said.
Veterans Student Support Services is aimed at first-generation college students and low-income student veterans, or those with a disability. The program offers academic advising, career counseling, financial aid counseling and more.
Navy veterans and PSC student Teresa Correa is one of those who has used Veterans Student Support Services.
"They were helpful," said Correa, who is studying event planning and management. "They helped me a lot with my advising and scheduling classes for me. I took a year off (after her discharge) before I started school, so that was hard."
Navy veterans and PSC student Gerell Diggs is a member of the Student Veterans Association and was at Woods' side during the cookout helping out on the grill.
He knows the obstacles veterans face when making a choice to return to school.
"There's no book on this, on how to make the transformation," Diggs said. "So you have to talk and communicate and get that information that no one tells you about. That's why these groups are here – to help support our veterans and their quests for knowledge."
Pensacola State College will be closed on Monday, Nov. 11, in observance of Veterans Day. But PSC veterans groups and veterans will participate in the Pensacola Veterans Day Parade, which begins at 10 a.m. Monday at Main and Spring streets, and which concludes at Veterans Memorial Park.