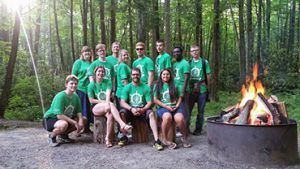 Published: 08-01-2018
Nine members of the Pensacola State College Outdoor Club experienced the adventure of a lifetime June 4 -9 during a leadership and skill-building primitive camping trip to Standing Indian Mountain, just north of Franklin, North Carolina, in the Nantahala National Forest.
The students, who were all relative strangers before their outing, worked together to set up campsites, climb mountains, hike trails, identify foliage and natural formations, explore old homesteads and navigate white water rafting.
"The object is to put the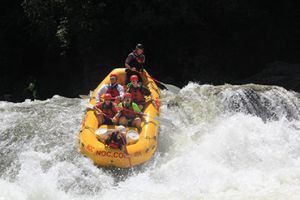 m in a different situation that requires a skill they may have to learn on the spot with people they don't know, so they have to bond. They have to work together," explained Anthea Amos, dean of Pensacola State's Milton campus and a club advisor for the past 16 years.
Crae Andrew, Zachary Bixby, Kaleal Church, Andrew Cross, Christian Feliberty, Madelyn Godwin, Austin Jordan, Kyle Mueller and Miranda Vidak were accompanied by Amos, along with math instructor Pete Falzone and Debra Bigelow-Jordan, a student services representative.
"It pushes them to limits … they walk further, they climb higher, they're doing things they would normally not opt to do – but it is what we have to do because we can't leave anyone behind," Amos said.
The Outdoor Club was originally founded over 30 years ago by now-retired faculty member Dr. Conrad Brewer and current associate biology professor Logan Fink as an avenue to inspire stewardship and community service by way of leadership, skill-building and volunteering. Fink, who still serves as a club advisor along with Bigelow-Jordan, then expanded this to include camping.
Every year, the club participates in a variety of service projects such as the International Coastal Cleanup with local business partners Adventures Unlimited Outdoor Center and Keep Santa Rosa Beautiful to clean area rivers and beaches. They also adopt five needy families during Thanksgiving and Christmas and deliver food baskets loaded with the fixings for an entire holiday meal.
In addition, club members assist the Gulf Coast Bluegrass Music Association monthly. This group donates to the Pensacola State College Foundation and provides concerts each fourth Saturday in the Pensacola State Milton campus Student Center. Several members of the club are amateur "pickers" and are also active in a local handbell choir that plays for community and civic events.
Other groups who benefit from service and monetary donations by the Outdoor Club are Autism Pensacola, the Shelby Family Foundation Scholarship Fund (Pensacola State College Foundation) and the American Cancer Society's Relay for Life.
"The College is a vital part of the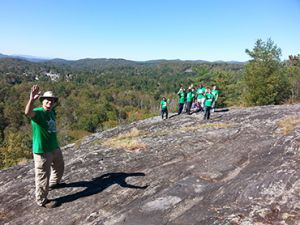 community and the community is an essential part of the College," describes Amos, who was born and raised in Milton and graduated from Pensacola Junior College's Milton campus when it was located on Canal Street.
The Outdoor Club's signature event is the Northwest Florida Forestry Conclave and Lumberjack Festival.  The 31st inception of this event will be held on the Milton campus on March 2, 2019.  Amos said that this past year, there were 239 participants in competition events and more than 800 attended. The event is free and open to the public.
"The whole campus is involved with this.  If you're here, you're involved because there is so much to do," Amos said.
For the 2018 event, Pensacola State students contributed over 1,500 volunteer hours preparing the grounds for the festival, which features events like the pole toss, cross-cut, log rolling, compass pacing and axe throwing.  The Children's Activity area has both demonstrations and events, highlighting skills like butter churning, wool-spinning and obstacle courses.
"Morris and Cammie Buchanan run the children's events. They have almost 300 children come and it's like a carnival," described Amos. Morris Buchanan, head of the math and computer science department, and Cammie Buchanan, an academic advisor, are just two of the many members of the Milton campus family who pour their efforts into the festival, according to Amos.
(Kaleal) Church, who is studying health management and nursing, said he didn't consider himself as someone who would "do woods" but admitted taking the camping trip helped him to become more outgoing and pushed him to new heights.
"Like jumping off cliffs into rapids," Church said. "I held my best friend's hand and we jumped together. We were closer after that."
(Madelyn) Godwin said she loves the outdoors and has had experience working on her grandparents' farm in Jay.  She found this trip helped her strengthen the bonds with people that she'd only kn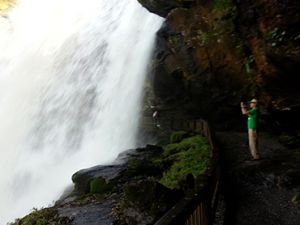 own in passing.
"You're with your family every day – you're just used to doing everything with them, but these people are not your family …" Godwin said.  "After spending a week with them, they pretty much become your family."  Next year, Godwin will be attending the University of Florida at Pensacola State College through the 2 + 2 program, which offers UF Bachelor of Science degree programs in natural resource conservation and plant science on the Milton campus.
Church and Godwin enthusiastically described their experiences exploring underground caverns, mining for precious gems, observing bears from a safe distance, preparing "hobo stew," witnessing a lightning bug jubilee and attending an outdoor play based on the Trail of Tears.
"It was incredible!" declared Godwin.
"I can start a fire," Church added proudly. He volunteered to rekindle the fire at 5 o'clock every morning, before the other campers were up. "The owls scared me the most … they sounded like coyotes!" laughed Church.
Amos said some of the students she takes, like Church, have never camped before in their lives. However, the experience changes them and they often return with their own families.
"We even had four students from two separate trips who met, later married, and went back for their honeymoon," said Amos, who has camped in the area since she was a child.
Members of the community don't have to belong to the club or go on a primitive camping trip with Amos to experience the great outdoors. Pensacola State's Milton campus features beautiful gardens, a nature trail and two disc golf courses among its many amenities, which are available to everyone to use and enjoy. Amos encourages others to explore the educational and physical challenges that can be found in wilderness adventures and stressed, "You don't understand until you go."