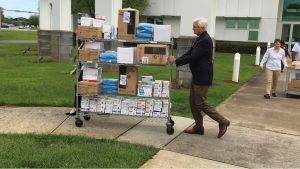 Published: 04-13-2020
Troy Moon, Pensacola State College
Pensacola State President Ed Meadows helped Warrington campus officials load boxes upon boxes of masks, gowns, gloves and other protective gear into a College vehicle on Friday.
Then, Warrington campus Dean Dusti Sluder drove the vehicle away, stopping at area healthcare facilities to donate the items to be used in the ongoing COVID-19 pandemic fight.
Sluder, who is also Dean of Health Sciences, conducted an inventory of the campus' personal protective equipment, and, with administration support, offered the protective gear to area health care facilities.
About 1,500 masks, gowns, gloves, shoe covers and "bouffant caps" were donated. Many of PSC's nursing and health care students are already working in area facilities, Sluder said.
"Contributing to the safety of our health care partners – those that collaborate with us offering clinical experiences to our students and hire our graduates – is one of the ways we can help during this challenge," Sluder said.
Before loading the items, Sluder showed Meadows the items that would be donated, describing how they can be used to keep health care workers safe as they work on the frontlines in the pandemic fight.
"This is wonderful, this is just great," Meadows said. "We're fortunate that we have so many well-trained health care professionals in Northwest Florida, and many of them are Pensacola State College graduates and current students. This will help them be able to answer the call because we know there's a need for this equipment. This is something we can do to assist those fighting this virus and to help the community."
PHOTO ABOVE: Pensacola State College President Ed Meadows helps transport personal protective equipment that will go to local medical facilities.
PSC donates PPEs to local hospitals

On Friday morning PSC President Ed Meadows visited the Warrington campus to help in the loading of Personal Protective Equipment that is to be donated by PSC to local healthcare facilities. Video by Troy Moon

Posted by Pensacola State College on Friday, April 10, 2020