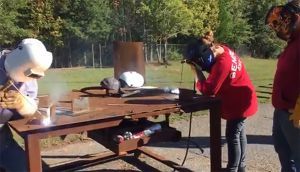 Published: 10-28-2019
By Troy Moon, Pensacola State College
If new Pensacola State College Century Center coordinator John Artinger is going to make the hour-plus drive to work each weekday from Navarre in southern Santa Rosa County to Escambia County's northern border with Alabama, he's going to do the most with his day once he arrives.
Two weeks into the job, the former PSC adjunct psychology instructor and 35-year-educator already is trying to grow Century Center and expand its offerings to students and recruit into Alabama territories.
When the spring term starts in January, the Century Center will re-implement the cosmetology program that has been dormant for years.
Artinger plans to recruit students across the state line in Flomaton, Ala., as well as areas such as Brewton and Atmore. He wants to get better signage to the Century Center to raise its profile in the historic, yet economically-challenged city. He wants to provide the local Century residents, including the young students at nearby Northview and Jay high schools with an opportunity to learn a trade that will provide them with an always-employable vocation.
"I want this place to start breathing again," said Artinger, who spend 35 years as a Maryland educator before moving to Navarre in 2017. "No one knows where this place is. We're going to make it viable and recruit high school graduates to come here and pick up a trade."
And he's trying to interact with the Century community as much as possible. He's already attended a Century Chamber of Commerce meeting; he has the local Lions Club visiting soon. He's met with the Mayor of Century and is reaching out to other leaders in rural Escambia, Santa Rosa and Alabama towns.
A visit to PSC's Century Center

Troy Moon visits with John Artinger, new coordinator of the PSC Century Center, who hopes to breathe new life into the center, reinstating the cosmetology program and expanding the welding program.

Posted by Pensacola State College on Thursday, October 24, 2019
Century is a historic lumber town founded in 1901, with a population of about 1,800 people. The only major employer in Century is the Century Correctional Institution, where an estimated 25 percent of the population is employed.
The Century Center currently offers a welding classes, GED studies, English classes and Continuing Education programs. And on Jan. 8, cosmetology will be added to the roster.
Haleigh Hasty is a Century resident enrolled in the PSC welding program at the Century Center who was lured to the program by word-of-mouth.
"Honestly, a lot of my friends have done it," she said of the welding program. "And we're constantly needing help with welding work (in the community). I thought it would be something cool to learn how to do…"I'm super-excited about it. It's a lot of fun."
And it also fulfills PSC's mission of meeting workforce needs and demands, said the program's welding instructor, David Brown.
"The certificate program can take three to four semesters," Brown said. "Put we have people finish the second semester and get a job. There's a demand for it."
Artinger said he is excited to take on the challenge at the Century Center.
"I'm forming partnerships and alliances with companies," he said. "We want them to be involved with the programs we have here, so when students get their certificates and licenses, we will have recruiters waiting to hire them."