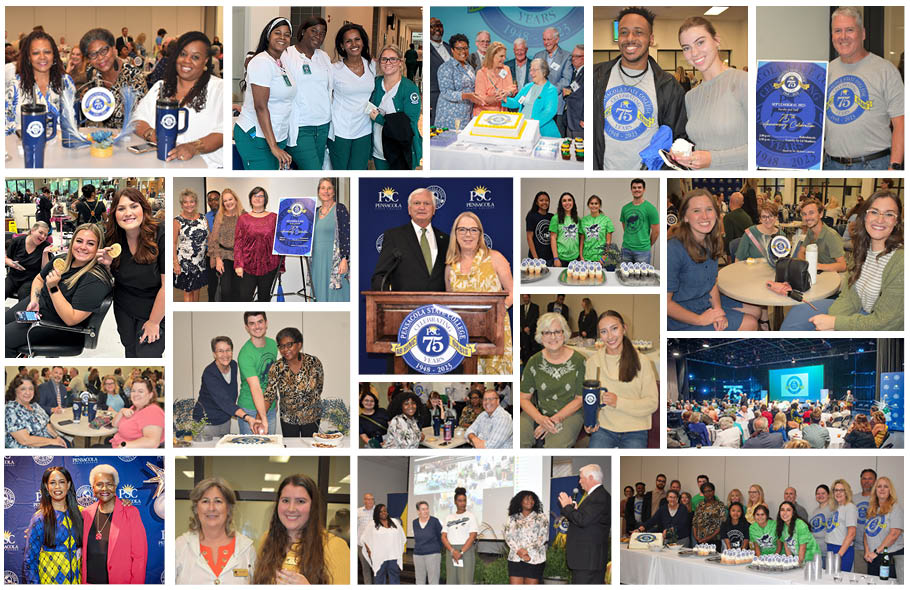 Pensacola State College celebrated its 75th anniversary on Sept. 13 with a full day of events.
The College opened on Sept. 13, 1948, with 136 students in Akins Boarding House in downtown Pensacola. PSC has grown to seven campuses and centers – Pensacola, Milton, Warrington, Downtown, Century, South Santa Rosa, and a Truck Driving Training Facility in the Santa Rosa Industrial Park East.
The anniversary celebrations culminated with a community gala in the Jean and Paul Amos Performance Studio at WSRE-TV that night on the Pensacola campus. Students and employees were treated to celebrations earlier in the day.
Pensacola, Gulf Breeze, Escambia and Santa Rosa counties signed proclamations recognizing the College's milestone. Gulf Breeze Mayor Cherry Fitch, Escambia County Commissioner Lumon May, Santa Rosa Commissioner Colton Wright and City of Pensacola Economic Development and Neighborhood Services Director Erica Grancagnolo read and presented the documents to PSC Board of Trustees Chair Dr. Troy Tippett.
Current and former members of the College's District Board of Trustees ─ Dona Usry, Carol Carlan, Julie Sheppard, Patrick Dawson, Ed Moore,  Gordon "Flash" Sprague, Rev. Monsignor Luke Hunt and Frank White ─ toasted the College at the gala.
Dr. Lusharon Wiley, Pensacola Mayor D.C. Reeves, and former mayors Jerry Maygarden, Grover Robinson IV and Mike Wiggins also were on hand and congratulated the College. Robinson is the College's associate vice president of government and community relations.
Pensacola State College alums and married couples Jay and Lynne Butcher, Kelsey and Stephanie Powell and Charlie and Fran Switzer sliced the 75th anniversary cake.
The event was standing-room only, with many longtime PSC supporters ─ Sandy Sansing, former Pensacola councilman PC Wu, Jan Miller, Jim Reeves, Pensacola councilwoman and PSC faculty member Jennifer Brahier, David Sutton, Escambia County Property Appraiser Chris Jones, Scott Luth, Dr. and Mrs. Gaylon McCollough, Trey Poirier and Ron Jackson – in attendance.
PSC alums Jody and Lori Skelton stopped by the gala because the College holds a special place in their hearts. The couple met in front of the Lou Ross Center in 1970 when then-Lori Orr was collecting tickets for a basketball game, and Jody Skelton asked her out.
"He introduced himself as the assistant basketball coach and asked me to an after-game party," recalled Lori Skelton (then a PSC dental hygiene student from Vero Beach). "I told him I had to go back to my dorm because I was expecting a phone call (from her hometown boyfriend)."
The couple later met again at Jerry's Drive-In and eventually went on a date. They married in 1972, and their two children – Dionne and Charlie – attended PSC.
Charlie earned his associate degree in 2005 and later graduated from the College's Fire Academy. He has been a Pensacola firefighter for more than 16 years. His wife, Alli Burch Skelton, also attended PSC on a softball scholarship, and her parents – Linda Haas Burch and Bill Burch – are PSC alumni.
The Skelton's daughter, Dionne Skelton Kohl, entered the honors program at Florida State University as a 17-year-old sophomore because of dual enrollment PJC classes and advanced placement high school classes. She is now an attorney living in Lake Wales.
The day-long celebration started with a lunchtime 75th Anniversary Pirate Cookout for students in the Building 5 Gazebo on the Pensacola campus. Students enjoyed hotdogs, chips, cold drinks, desserts, and music by Pensacola State alum DJ DT @DJDTmusic (David Taylor). Chandler White, Students Engagement and Leadership coordinator, and several students cut a 75th Anniversary cake.
At 2 p.m., PSC faculty and staff employees celebrated with an event in the Student Center where Jasmine Brown, Monique Collins, Mary Anne Petruska, Juanita Scott, Mike Will and Rick Dunn joined Dr. Meadows in an anniversary toast. The event was livestreamed to the other PSC campuses and centers.
Longest-serving employees Betty Freeney, Petruska, and PSC Student Ambassador Ashton Beeman cut the ceremonial 75th anniversary cake.