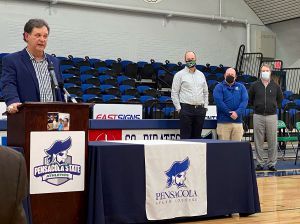 Published: 01-19-2021
Troy Moon, Pensacola State College
Bill Hamilton is a head coach, an athlete and athletic director, and the consummate team player.
So when Hamilton announced his retirement as the Pensacola State College Athletic Director on Thursday, Jan. 14, at a press conference in Hartsell Arena, he made sure to pay tribute to the team. Not just the players he's trained or the coaches he's coached with during his 30 years at PSC.
Hamilton's team goes beyond athletics. His team for the past 30 years has been Pensacola State College – the whole College.
He talked about the PSC Visual and Performing Arts Departments and their successes, and even added how PSC Visual Arts instructor Mark Hopkins commended him on a photo he had taken.
Hamilton even took time to pay tribute to the folks from PSC MIS (Management Information Systems) who made sure his computers were always running properly – and for teaching him how to use them in the first place. Oh yeah, they taught him how to use his iPhone as well.
"I have become a part of this College in its totality," said Hamilton, who came to PSC in 1990 to become head baseball coach. He became PSC Athletic Director in 2000 and continued to serve as the baseball team's head coach until 2010.
Hamilton's final day at PSC is Friday, Jan. 22. He'll be back off-an-on until his official retirement date of March 31.
Before the press conference, which was attended by the press, administrators and staff, players and coaches from all PSC athletic teams, Hamilton -─ never known to be at a loss for works ─ often had to stop to compose himself as emotions overwhelmed him. Those "feelings" really got the best of him when he thanked his staff, and, notably, his administrative assistant Marcie Roebuck, for their friendship, dedication and "functional operation" of the Athletic Department.
Hamilton retired from coaching in 2010 as the winningest coach is PSC baseball history, notching 703 wins to 468 losses. His 2004 team was PSC's first to win a state baseball championship and the team finished sixth in the Junior College World Series.
As Athletic Director, Hamilton oversaw a $3.5 million makeover of the gym, as well as upgrades to the baseball and softball stadiums. He also established the Pensacola State College Athletics Hall of Fame, of which he will surely be a future inductee.
But Hamilton said maybe his greatest accomplishment at PSC was stability. And that stability not only benefitted the College, but his family as well.
A devoted family man and church-goer, Hamilton had taped a picture of his grandchildren, Bailey, 7, and Ty William, 3, to the front of the speaker's lectern before the press conference.
"My wife Cathy is my backbone and my sounding board," he said of his spouse, a longtime Brentwood Elementary School teacher. "A lot of the advice I gave my players came from her, because she was an ultimate leader in childhood education."
Then, he talked of the gift PSC had given them, and their daughter, Lindsay Sullivan.
"My wife is an Air Force brat and she didn't have a chance to build strong friendships when she was young," Hamilton said, adding the family only moved once during their 30 years in Pensacola. "I wanted (Lindsay) to build strong relationships with schoolmates and she did. I wanted her to have friends she would know all her life, friends she could call when she was in times of need. I wanted her to be in 15 weddings. She was in 20."
In retirement, Hamilton plans to spend a lot of time with his grandchildren.
"I have two awesome grandkids that think I'm the greatest thing ever – they can't get enough of me," he said.
Then he reflected on his own father, who died when he was young.
"He was a hardworking guy and his work ethic stayed with me," Hamilton said. "I hope he's proud today."