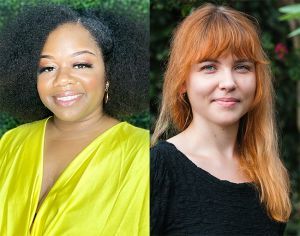 Published: 07-19-2021
Mike Suchcicki, Pensacola State College
Pensacola State College brought home two gold medals in the 2021 National SkillsUSA Contest, presented in a virtual ceremony on June 24.
Lateisha Hughes won her gold in the field of esthetics, while Amelia Moore was a winner in photography.
Hughes' adviser in the SkillsUSA journey was Sonja McCall-Strehlow. Moore's instructor was Mark Francis.
PSC fielded two other Florida SkillsUSA winners in the national competition: Patrick Newburn, instructed by David Langham, in the field of commercial baking; and Ashlyn Cain, instructed by Joni Verlin, in restaurant services.
The SkillsUSA Championships feature more than 6,500 outstanding career and technical education students –– all state contest winners –– competing hands-on in 107 different trade, technical and leadership fields. Students work against the clock and each other, proving their expertise in occupations such as electronics, computer-aided drafting, precision machining, medical assisting and culinary arts.
Because of the COVID-19 pandemic, this year students competed before the judges via video conferencing technology.
"SkillsUSA is one of the most difficult competitions that you can endure," said Jennifer Ponson, coordinator of Student and Program Outreach for PSC and regional coordinator for SkillsUSA Florida. "State level is huge, but only the first-place winners go to nationals."
"Wow!" said Hughes after the ceremony. "It was a long process, and I learned a lot during that process. Patience, endurance. I learned a lot about myself. My classmates thought I could do it, so I did it."
"I got this young lady out of the classroom and told her that her skills and talent were amazing, and I wanted her to compete," said McCall-Strehlow. "It was like pulling teeth a little bit to get her to compete, but once she took off with regionals, she fell in love with it. She shined at state level and then we were determined to get this national gold medal."
So impressive were Hughes' accomplishments, McCall-Strehlow said, that she has been offered an adjunct instructor position at PSC.
Hughes, the owner of A Nu' Reign Beauty esthetics, wellness and haircare center in Pensacola, said the SkillsUSA gold medal is a sign that her career is about to take off.
"People like me — African American women — are so underrepresented in the esthetics industry," she said. "We're forced to go to people who don't understand our skin care. More than anything I would love to mentor young women like myself, would love to bring awareness that we're wanted in this industry."
Photography winner Amelia Moore said winning gold "feels great."
"I feel very fortunate to have had the opportunity to compete, and I am very proud to represent the PSC photo program this year," she said.
Moore said she approached the competition process like it was a job.
"Just making sure I understand what is expected of me and following the directions," she said. "Knowing when things were due and asking a lot of questions. I tried to make decisions that best suited the prompts and themes."
Moore, who starts this fall at Florida State University, is finishing her bachelor's in criminology. She wants to work with the fish and wildlife conservation service. "I'm always working on personal projects and hope to photograph some incredible wildlife in the future."
She said the SkillsUSA program brings great value to the students who participate.
"I came across a few things that at first I wasn't sure how I was going to do them, but everything from basic file organization and working non-destructively were immensely helpful in navigating my way through the competition."
Moore's instructor, Mark Francis, said this has been an exciting semester for her: Not only did she earn the gold medal, but she also completed her Photographic Technology A.S. degree.
"It's exciting to see Amelia win gold at SkillsUSA Nationals," Francis said.  "She's had a demanding semester and demonstrated the ability to adapt to both a Virtual education and SkillsUSA conference and persevere. Very impressive!"
PHOTO: Lateisha Hughes, left, and Amelia Moore.