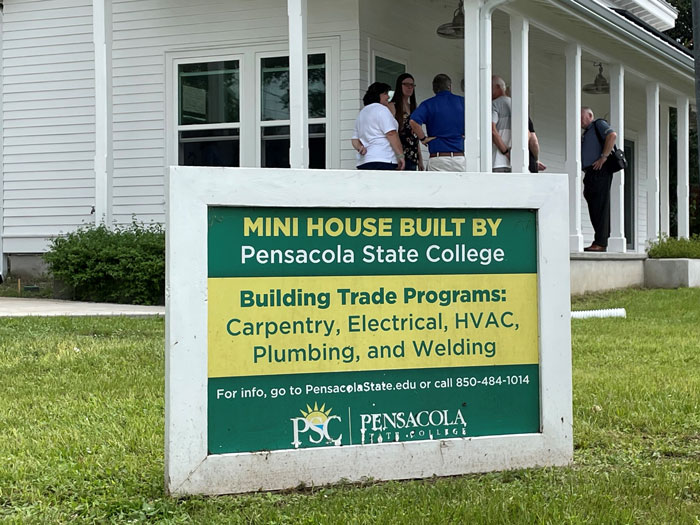 Some first-time homeowner is going to get an awesome home. So awesome that it could be the only home they'll ever need to buy.
"This is a 200-year house with the proper maintenance and care,'' said Tony Grahame, Pensacola State College Carpentry Program Coordinator, as he stood on the covered porch of the 600-square-foot mini-home on Tarragona Street. "It's an exceptional example of good building-science practices and the students' amazing work."
The mini-home was built by PSC Carpentry Program students in partnership with the Escambia County Housing Finance Authority and its Urban Infill program, which targets development of vacant urban properties and construction of affordable homes to first-time homebuyers.
On Friday, Aug. 19, the Escambia County Housing Finance Authority held a ribbon-cutting and open house to show off the home to local builders and the community.
"We're so grateful to the PSC Board of Trustees and (PSC President) Dr. Meadows for their longstanding support of our mission,'' said Lisa Bernau, Escambia County Housing Finance Authority executive director. "And of course, we want to thank the professors and students who were determined to build this wonderful home that will go to a first-time homeowner."
The mini house also includes a 300-square-foot wraparound porch and solar panels to reduce electrical costs. Though it was PSC carpentry students who built the home, there were contributions from other College workforce programs, including HVAC and electrical.
At the open house, a handful of students who worked on the project came by to see the finished product.
Former carpentry student Brandi Duplechain hadn't seen the home since the frame went up until the open house event.
"Wow, it looks amazing,'' said Duplechain, a licensed carpenter who now operates a home restoration company with her mother. "It's going to be an amazing opportunity for a family, the neighborhood and the community."
Work on the home began in late 2018. Construction was slowed by COVID-19 shutdowns and supply chain issues.
About 100 PSC students worked on the home, which Grahame said is "above code" and can withstand hurricanes winds up to 180 miles per hour.
"It's basically been a labor of love,'' said Grahame, a certified Master Builder. "It's been an incredible opportunity for students to get live work. We're so grateful to the Escambia County Housing Finance Authority for bringing this project to us and providing the funding and giving us the time, we needed to complete it. This is an exceptionally well-built house that's going to be a wonderful home."