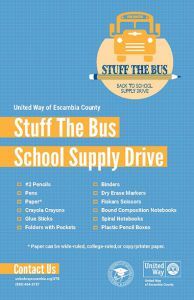 Published: 07-16-2019
The Pensacola State College chapter of the Association of Florida Colleges is supporting the 2019 community-wide project, "Stuff the Bus" (formerly "Cram the Van").
The school supplies will be donated to the Escambia County School District for students in need, and to provide relief to teachers who spend their own money on classroom items.
A list of recommended supplies is attached, and donation boxes/locations are listed below. All supplies from the College will be delivered to the community project collection site by Saturday, July 20.
PSC donations must be made by Wednesday, July 17.
Drop-off locations and AFC chapter volunteers assisting with the project include:
Pensacola campus, Bldg. 7, Rm. 715, (Tammy Henderson and Mel Miner)
Pensacola campus, Bldg.10, Business Department (Emma Johnson)
Milton campus, Bldg. 4100, (Robin Giacin)
South Santa Rosa Center, (Debbie Gerard)
Warrington campus, Bldg. 3600, (Traci Jones)
Interested in joining the AFC? Go to www.myafchome.org, and select "Member Services." Also follow the PSC chapter on Facebook at AFC – Pensacola State College Chapter.
For more information on the supply drive, contact Tammy R. Henderson, AFC 2019-2020 membership officer-elect, at 850-484-1766.