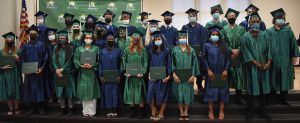 Published: 05-19-2021
Troy Moon, Pensacola State College
Rhonda Houze wants to own a food business. She's just started classes in Pensacola State College's Business Associate of Arts degree program. But before she could enroll in College, the 47-year-old mother of five had to earn another degree first.
On Thursday, May 13, Houze was one of 44 PSC Adult Education students who received a GED diploma, which is the equivalent of a high school diploma, at a graduation ceremony in the Pensacola campus student center.
Friends and family members attended the ceremony, many presenting congratulatory balloons and bouquets to the graduates.
"I always pushed my own kids to get their diplomas," Houze said. "If I could push them, I could push myself. And I did. It wasn't easy for me. Math is what got me. But I worked hard and did it."
And now she's a college student.
"I wanted to learn how to run my own business," Houze said. "I'm excited about the future."
PSC President Ed Meadows urged the other Adult Education graduates to also consider continuing their education at the College, whether its seeking an associate or bachelor's degree or enrolling in a career technical education program such as welding, carpentry or HVAC.
"Education is lifelong," Meadows told the graduates. "I hope you'll pick Pensacola State College for your future educational needs. I'm so proud that you realize the necessity of getting your GED. It will open doors for you for the rest of your life."
And to those who think there is a stigma to a GED, Julie Riser, the graduation guest speaker, set them straight.
Just days before speaking at the Adult Education graduation, Riser received her own Associate of Science degree at the PSC commencement at the Pensacola Bay Center. She has earned a scholarship to the University of West Florida and will study physical therapy beginning in the fall term.
Riser also earned a spot on the 2021 All-Florida Academic Team – one of six PSC students on the 137-member Academic Team. She has won numerous academic and civic awards and is president of the Theta Chi chapter of Phi Theta Kappa Honor Society. She also was president of the Robinson Honors Program and the TRIO Student Support Services Club.
Yet, her success was never a given.
"It took me three years after the date I was supposed to graduate (high school) to get the nerve to take my GED," Riser told the graduates. "It was not at all what I expected. There were no torture chambers, no people there waiting at the door to tell you how you had failed at life…The big takeaway from this story, mine and yours, is not how we got there. It is that we gave ourselves the chance to get there."
The 44 Adult Education graduates who received a GED diploma on May 13 at the Pensacola campus Student Center are:
Alicia Adams
Larry Allie
Alexia Beck
Brianna Benton
Lonny Black
Tenesia Boykin
Adam Bradshaw
Breanne Carr
Kelsey Decker
Sarah Deville
Nyssa Duke
Rosalinda Fabbro
Infiniti Foster
Jordan Goon
Hannah Hall
Anthony Hammac Jr.
Samuel Hancock
Autumn Harigel
Devyn Harigel
Kayla Harris
Seth Harris
Lacy Henderson
Isaac Herrera
Rhonda Houze
Corliss Jackson
Eli Jackson
Kursha King
Kurstin King
Vicklind King
Conner Kirsling
Deija Lewis
Mark Lewis
Derek Masters
William Mitchell
Luis Najera
Shelbey Norrell
Alyssa Pafford
Aidan Rich
Damion Robb
Luther Robins
Damein Romero
Ebonee Sims
Nhu Tran
Brianna Vaughan