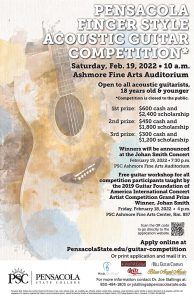 Published: 01-12-2022
Mary Mabins, Pensacola State Ciollege
The 2022 Pensacola Finger Style Acoustic Guitar Competition is set for 10 a.m. Saturday, Feb. 19, in the Pensacola State College Ashmore Fine Arts Auditorium.
The competition is open to all acoustic guitarists who are 18 years old or younger on the date of the competition. The first-place winner will receive a $600 cash prize and $2,400 Pensacola State scholarship. Second-place winner will be awarded a $450 cash prize, and $1,800 scholarship. The third-place winner will receive $300 cash and a $1,200 scholarship.
The competition is closed to the public. The top three prizes will be announced during intermission at the Johan Smith concert set for 7:30 p.m. Saturday, Feb. 19, in the Ashmore Fine Arts Auditorium.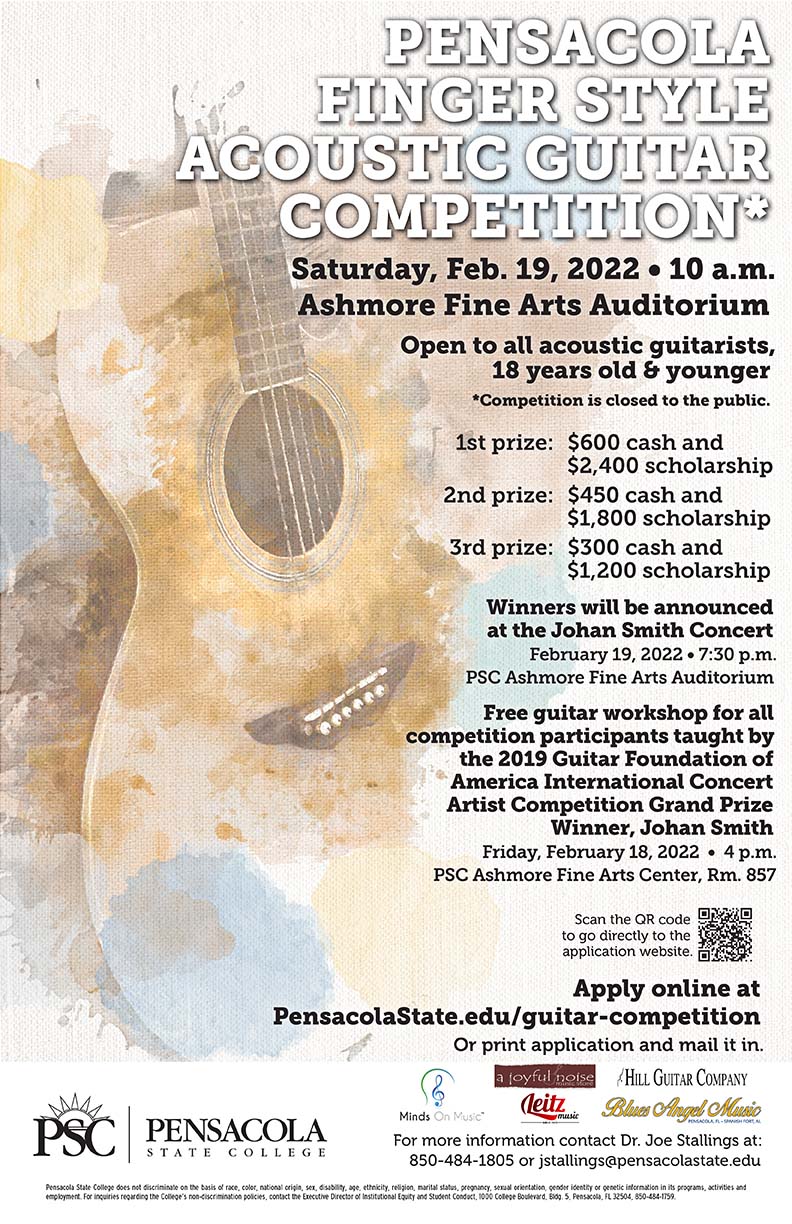 Smith, Guitar Foundation of America's 2019 International Concert Artist Competition grand prize winner, will be the guest adjudicator for the competition. He also will hold a free guitar workshop for all competitors from 4-7 p.m. Friday, Feb. 18, in the College's Ashmore Fine Arts Center, Room 857.
All competitors are encouraged to register and attend the free master class.
The application deadline for the competition is Friday, Feb. 11. For competition rules or to print or complete an online application, visit www.pensacolastate.edu/guitar-competition.
Email completed applications to jstallings@pensacolastate.edu or mail to:
Dr. Joe Stallings, Department of Performing Arts
Pensacola State College
1000 College Blvd.
Pensacola, FL 32514
The sponsors for this year's competition are Hill Guitars, Blues Angel Music, A Joyful Noise Music Store, Leitz Music and Minds on Music.
For more information, email or call Stallings at 850-484-1805.