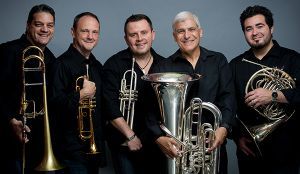 Published: 10-16-2019
Ensembles to perform 'Sketches of Spain'
The Pensacola Civic Band opens its 48th season with "Sketches of Spain," featuring the world-renowned Boston Brass.
The performance is set for 7:30 p.m. Saturday, Nov. 9, at the Pensacola Saenger Theatre. Under the direction of Don Snowden, the Pensacola Civic Band will perform music that will ignite the senses to all that Spain has to offer.
"The music of Spain has a long history. It has played an important role in the development of Western music and has greatly influenced Latin American music," said Snowden Pensacola State College's district academic department head of performing arts and director of bands.
"When one thinks of Spanish music, many images and sounds come to mind ─ beautifully adorned flamenco dancers, running with the bulls, and bands with the signature trumpet vibrato."
The Boston Brass consists of Jeff Conner and Jose Sibaja on trumpet, Chris Castellanos on French horn, Domingo Pagliuca on trombone and William Russell on tuba. For 31 years, the ensemble has set out to establish a one-of-a-kind musical experience by treating audiences to a unique brand of entertainment.
In partnership with Pensacola State, and as a part of the Pensacola Civic Band's ongoing educational efforts, members of the Boston Brass will lead a Master Class at 10 a.m. Nov. 9 in the college's Ashmore Auditorium.
Participants will learn tips and tricks to playing various brass instruments in both solo and ensemble settings.
Jeff Conner also will present a special clinic about musical entrepreneurship at 4 p.m. Thursday, Nov. 7, in the auditorium. The auditorium is Building 8 on the college's Pensacola campus, 1000 College Blvd.
"Both of these educational opportunities will assist upcoming musicians in their future endeavors and are free," Snowden added.
Concert tickets are $10 (plus applicable fees) and are available at the Pensacola Saenger Theatre box office at 850-595-3880 or online at ticketmaster.com.
For more information, visit www.pensacolacivicband.org or call 850-484-1847.
'Sketches of Spain'
What: The Pensacola Civic Band with the Boston Brass.
When: 7:30 p.m. Saturday, Nov. 9
Where: Pensacola Saenger Theatre
Tickets: $10 plus fees at ticketmaster.com or theater box office
Details: www.pensacolacivicband.org