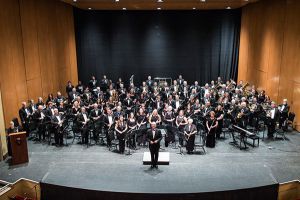 Published: 12-03-2018
Celebrate the holiday season with The Pensacola Civic Band in these annual offerings of music for the Christmas season that include Dixieland, swing, and other variations of the classics.
The annual Christmas at the College concert, which ushers in the holiday season, is set for 7:30 p.m. Monday and Tuesday, Dec. 10 and 11, in Ashmore Auditorium, Building 8, on the Pensacola campus at 1000 College Blvd.
This year's concert features Christmas favorites from Mannheim Steamroller and favorites like "Silent Night" by Julie Giroux and "Sleigh Ride" by Leroy Anderson. The Pensacola Civic Band also will perform Leroy Anderson's "A Christmas Festival," with music and narration of the "Night Before Christmas," and the classic sing-alongs.
Tickets are $10, and can be purchased at the Pensacola State College Ticket Office or by calling (850) 484-847. Online buyers should visit www.pensacolastate.edu/mt or www.pensacolacivicband.org.
The Christmas at the College concert is a fundraising event for the Pensacola Civic Band's scholarship fund. A portion of the proceeds are used to help high school students attend summer music camps across the country. Scholarship recipients have attended camps at Florida State University, University of Southern Mississippi, University of Florida, Louisiana State University, and many others.
For more information, call Lewis Garvin at (850) 291-8331 or visit publicity@pensacolacivicband.org.