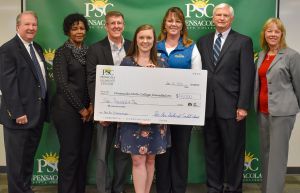 Published: 01-28-2020
By Troy Moon, Pensacola State College
Pen Air Federal Credit Union has a mission of "helping people and enhancing lives," said Stewart Ramsey, the credit union's president and CEO.
On Jan. 13, Ramsey and other Pen Air officials put those words into action (again), giving $5,000 to the Pensacola State College Scholarship Fund in a ceremony held in the Pen Air Federal Credit Union Classroom located in Chadbourne Library.
The scholarship donation is a continuation of the credit union's support of the college. In November 2016, Pen Air gifted the College with a $100,000 contribution to establish the Pen Air Federal Credit Union Endowed Scholarship.
PSC student Katherine Castle was awarded a $450 scholarship award from Pen Air – the third scholarship awarded using interest from the Pen Air Federal Credit Union Endowed Scholarship.
Castle just started her second semester at PSC, where she is studying medical sonography.
"It was a very big shock for me. It will definitely go toward books. I've been told I'll be spending a lot of money on books," said Castle who became interested in sonography while as a student at Robertsdale High School in Baldwin County, Alabama.
"It's been a goal since I was 15. And I'm blessed to be able to achieve that here."
The 2016 Pen Air contribution was given to celebrate the college graduating more than 100,000 students since its inception in 1948. The gift also helped establish the Pen Air Federal Credit Union Classroom – a digitally-enhanced classroom where financial literary classes, workshops and seminars are held.
Founded in 1936, Pen Air Federal Credit Union is the largest and oldest Pensacola-based credit union.
The credit union annually awards $5,000 to the PSC Scholarship.
"We appreciate the opportunity to come here each year and meet with some of these students," Ramsey said. "I think this is a great partnership between Pen Air and PSC. Our mission is to enhance people's lives, just as PSC does. We do it financially, but we try to do it educationally as well."
Pen Air hosts financial literacy classes and workshops across Northwest Florida, including at area high schools as well as local colleges and universities such as PSC and the University of West Florida.
PSC President Ed Meadows called the Jan. 13 gift a "recurring theme."
"It's certainly a wonderful partnership," Meadows said. "And it's a wonderful way to support your community. We have a lot to be thankful for in the beginning of 2020," including the ongoing relationship with Pen Air.
Ramsey said the gift helps Northwest Florida as a whole.
"An educated community is beneficial to everyone," he said, "and not just for the individual receiving the scholarship, but the community at large."
Photo: L-R: Robert Jacobson, Pen Air Federal Credit Union Board Member; Shirley Harris, Pen Air Federal Credit Union SVP/CFO; Stu Ramsey, Pen Air Federal Credit Union President/CEO; Katherine Castle, scholarship recipient; Pamela Hatt, Pen Air Federal Credit Union Vice President of Marketing; Ed Meadows, President, Pensacola State College and Andrea Krieger, Pensacola State College Executive Director of Institutional Development.