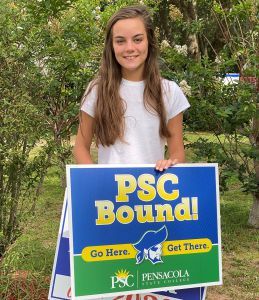 Published: 06-25-2020
Mary Mabins, Pensacola State College
When Julie-ann Morgan joined the cross country team in ninth-grade, she had no idea she had a natural aptitude for the sport or that it would help her pay for college.
"I like completing an event, the feeling of accomplishment when you're finished is really amazing," said Morgan, a 2020 Pace High School graduate and new recruit for Pensacola State College women's cross country team.
The Pensacola State cross country team is in its second year and Coach Julie Burger said she had heard great things about Morgan before recruiting her.
"Coach (Alyssa) Cummings from Pace High School spoke very highly of Julie-ann's dedication to running and overall work ethic. I am excited to have her onboard and looking forward to her positive spirit and enthusiasm."
Burger noted Morgan's statistics also were outstanding.
"Julie-ann has competitive times dating all the way back to 2016. This is a great accomplishment for a young woman beginning her college running career. Like many sports, running takes time and experience to reach your personal best," she said.
Likewise, Morgan said she had heard many positive things about Burger and the College's cross country program.
"I'm really excited to meet my teammates and train with them. I also look forward to learning from Coach Burger, she is well known in the running community and I know I can learn a lot from her," said Morgan who plans to major in general studies at PSC before moving on to a university.
The 17-year-old wants to become a pediatric nurse or an oncology nurse.
Morgan also was featured on Running Wild's May blog. She was one of five graduating seniors spotlighted on the Pensacola retailer's "For the Love of Seniors and Track" edition.
"She felt she didn't get to reach her full potential due to a Fall (2019) Cross Country injury," the blog said of Morgan who competed in the hurdles, 1600, 3200, 4×800 and 4×400 events in high school.
When not training (starting at 6:45 a.m. most days), Morgan likes to curl up with a good Nicholas Sparks' novel. "Safe Haven" is her favorite book but between training and a job at the Five Points' Whataburger, she said she hasn't had the time to read a lot lately.
The daughter of Ann Morgan, she is one of nine children in her family.
"My older siblings, Tammy, Todd and Tim, are my mom's biological kids. I was adopted at age 2 and I have other adopted siblings as well ─ Joseph, 20; Rebecca, 18; Theresa, 15; Jonathan, 15; and Shawn, 13," she said.
When asked about growing up in a blended family, Morgan stresses "my family" is just like every other family.
"Growing up I didn't view us as anything different. We are related and we are a family," she said.
Also joining the Pensacola State cross country team this year is Jabria Brothers, a 2020 Milton High graduate. The 18-year-old has been running track since her sophomore year of high school.
"There was always something about running that I enjoyed, and I love staying in shape," she recalled. "It was always a challenge, but I like challenges and that's why I'm glad I'll be joining the PSC team. It will be my first foray into distance running but I am up for the challenge."
Burger said Brothers is an accomplished athlete, who has competed in many events.
"She has some impressive stats and we're really glad to have her join the PSC team," the coach said.
At Milton High, Brothers posted notable times in the 100-, 300- and 400-meter hurdles and the 400-meter dash during events such as the Andrews Invitational, Aggie Invitational, Escambia Gator Invitational, Santa Rosa County Championship, 37th Annual Frank Lay Patriot Invitational and others.
Running is a family legacy for Brothers. Her mother, Urcila Kennedy, also ran track for Milton High. She plans on majoring in business and management and eventually becoming a project manager.
Trinity Maracle, a Pensacola State student in her second year, also has rejoined the cross country team.
Burger said rebuilding the cross country team for a second season has been exciting.
"We are looking forward to a great upcoming season and developing runners from various backgrounds. We are in talks with some longer distance sprinters that would like to work on their long distance game with PSC," she added.
"There is so much local athletic talent and cross country lends itself to social distancing more than many other sports. It will certainly be a season like no other."
PHOTO: Julie-ann Morgan, a 2020 Pace High graduate, has committed to Pensacola State College women's cross country team for the upcoming 2020-2021 season.