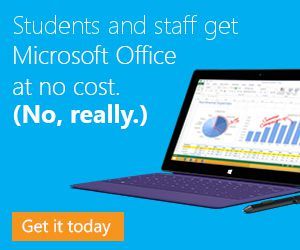 Published: 12-04-2015
Pensacola State College partners with Microsoft to provide Office 365 to our students for email and collaboration.  Included in the Office 365 suite is cloud based email and Office apps as well as a full 1 TB of cloud storage in OneDrive…and now students can download the suite for free to personally owned devices!
This automatically updatable, subscription-based software ensures our students always have the latest version of Word, Excel, PowerPoint, OneNote, and more for as long as they're a student here and the program continues.
Install on up to 5 compatible devices (PC, MAC, phone, tablet, etc)
Use with OneDrive for automatic device syncing
Gain valuable skills on the world's most popular document software
Use the same programs as the faculty to ensure full file fidelity
This offer is available to all students at PSC. To get your complimentary Office, visit Office.com/GetOffice365 and follow the on screen instructions.