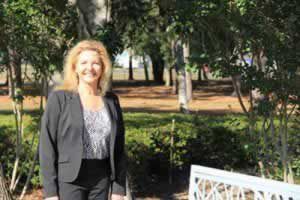 Published: 11-28-2016
The old adage, "age is only a number," is Pensacola State College graduate Mary Ann Krebs's mantra.
Krebs who earned her Associate Degree in Nursing (ADN) from Pensacola State in May 2014 and then a Bachelor of Science (BSN) in December 2015 started college classes at age 53. She is now 58 and pursuing a doctorate in family nurse practitioner at the University of South Alabama in Mobile.
"I graduated from high school back in 1975 and had not been back in a classroom until I enrolled in the ADN program in January 2011," said Krebs, who earned her first degree with a 3.8 grade point average ─ magna cum laude designation.
When she graduated with her BSN, Krebs had a 4.0 GPA.
By the time Krebs earns her doctorate, she will be 61 years old but already has her medical career mapped out.
"I plan to work well into my 70s," she explained. "I also want to teach and eventually write; one of my goals is be published. I figure I can teach as long as I want to. Hey maybe into my 80s. At age 85, I can live anywhere and teach anywhere."
Krebs attributes her successes to the strong foundation she received at Pensacola State – describing Dr. (William) Renfroe as one of her best instructors.
"On my first test in his class, I didn't do so well and he basically told me, 'What you put into college is what you get out of college.' It was then I started developing better study habits," she said.
"…One of my other professors, Dr. (Worwaran) White was very demanding and she really pushed me but in the long run, it all paid off. Now that I'm at USA, I feel like I am so far ahead in the game."
She added the college's administrators and faculty helped her navigate the higher education landscape.
"I learned a lot about financial aid, in fact my final speech in one of my classes was on financial aid," Krebs said, noting Pell grants, scholarships, private donations and other aid helped pay her way through college.
She even took advantage of the college's Virtual Tutoring Lab when a chemistry course threatened to get the better of her.
Michael Johnston, now Pensacola State director of institutional research and former head of the Virtual Tutoring Lab, said Krebs is a prime example of a great success story.
"I worked with her in several virtual tutoring chemistry sessions," he remembered. "Krebs was a very non-traditional student, but committed to doing her very best in that chemistry course. She directly attributes her 'A' in chemistry and her magna cum laude honors graduation to the Virtual Tutoring program."
Over the course of her life, the Pascagoula, Mississippi, native has worn many hats. After high school, she moved to Atlanta where she was a fashion model for one year, and then worked for an attorney. She has even worked for global advertising agency, McCann Erickson, as an associate producer for CNN, and in real estate.
"I like to say I've had three big careers," said McCann of her diverse employment history. "However, along the way I married and found myself working at the front desk of a resort in Texas and decided I wanted to do more, I wanted a career. That become possible when my former husband and I moved to Pensacola."
She said when they settled in Pensacola in November 2010, she was already 50 years old but applied to Pensacola State anyway.
"When I applied, it was on a paper application," she said, smiling. "I made the decision to go into nursing. It was a good-paying career and I knew I was about to embark on a long journey."
Despite the demanding doctoral program, Krebs works as a full-time nurse at the Lakeview Center. Until recently, she also was worked as a nurse at the Santa Rosa County Jail.