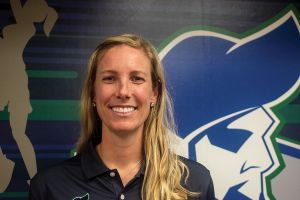 Published: 07-22-2021
Troy Moon, Pensacola State College
Patricia "Patchi" Gandolfo started playing volleyball in her home country of Brazil when she was 9 years old. It was her mother's idea and it was for the young girl's own good.
"I actually wanted to play tennis,'' Gandolfo said. "My sister played volleyball and had a lot of friends. She was much more outgoing. I had like one friend. My Mom suggested I play a team sport to meet some other people and I did and I loved it."
Volleyball has been part of her life ever since.
Gandolfo was announced as the new Pensacola State College volleyball coach on Thursday, July 22. The team starts practicing in early August and play their first game of the new season on August 20 against Florida Gateway College. The game will be played at PSC.
This is Gandolfo's first head-coaching job. She previously was an assistant coach at the University of West Florida and the University of South Alabama.
An accomplished player herself, Gandolfo began her collegiate career at Missouri State University-White Plains and then played at the University of West Florida.
In 2017, she was inducted into the Missouri State University-White Plains Hall of Fame, named a 2017-2018 AVCA Thirty Under 30 recipient, was a member of the GSC All-Decade Team, an NCAA Third Team All-American, an NJCAA First Team and Second Team All-American as well as an NJCAA All-Regional and All-Conference Team Player. She was an accomplished student as well, earning All-Conference Academic and All-Regional Academic Team honors in 2006, 2007 and 2008.
Gandolfo earned a Bachelor of Communication Arts degree from UWF in 2011 and a Masters in Exercise Science and Community Health from UWF in 2018. That year she was named UWF's Most Outstanding Student of the Year.
She hopes to inspire her players to achieve not only on the volleyball court, but in the classroom and community as well.
"At the end of the day the goal is to win games,'' Gandolfo said. "But aside from making them great volleyball players, I want to be a mentor for them and help polish them for life. That's what's important. It would make my day when a graduating player comes to me and says, 'I nailed that job interview'. For me, those kinds of things are big."
She has two rules for her players.
"No sarcasm and no cursing,'' Gandolfo said. "I don't want to tell them 'No' all the time. I want to tell them what they can do better. But those are the two 'Nos' for me."
While Gandolfo was an assistant coach at UWF from 2010-2018, the volleyball team had a 138-12 record in the Gulf South Conference (GSC), and an overall 242-72 record. The team made the Sweet Sixteen in 2010, 2012 and 2017, had nine consecutive NCAA Regional appearances and won six GSC championships.
The UWF team ranked in the Top 25 American Volleyball Coaches Association (AVCA) Coaches Poll for seven years, had four student-athletes receive GSC Players of the Year awards, 6 GSC Most Outstanding Players awards and one Hall of Fame inductee among many other accolades.
Along with being an assistant coach at UWF, Gandolfo also was marketing coordinator.
While Gandolfo was coaching at South Alabama in 2019 and 2020, three student-athletes were selected All-Sunbelt Conference volleyball players, and the team broke the university's record for total season wins since 1989 and home wins in a first season.
Gandolfo also was recruiting coordinator at South Alabama and was the host for numerous volleyball camp and clinics.
Before the first official game of the season on Aug. 20, the Pirates will play a scrimmage game against the UWF team on Aug. 18.
PSC returns six players and brings a second-year transfer player to the team to join eight incoming freshmen players.
It's Gandolfo's first head coaching job after years as an accomplished assistant, and she knows she'll have to do some things differently. She's in the process of hiring her own assistant coach.
"The role changes,'' she said. "An assistant's job is to do whatever the head coach needs. The biggest challenge for me is to not try to take care of everything myself and let my assistant take over some duties. I was fortunate at UWF because I was always helping with the practice plan and recruiting duties. I'm comfortable doing everything I will have to do now."