Troy Moon, Pensacola State College
Many Pensacola State students are first-generation college students, from homes where higher education was not a tradition or expectation.
That's why two new Student Services Advisers are perfect fits for their jobs in the Pirate Path to Success program, which assists first-generation college students. Pell Grant recipients Jacqueline Brazile and Ashley Faulkner are both the first in their families to attend college. And a third recently-hired Student Services Adviser, Amber Johnson, while not the first college graduate in her family, has a background in helping people overcome obstacles.
All three have been hired since May as part of the $2.2 million U.S. Department of Education Title III grant that PSC was awarded in October 2019. A fourth adviser, Halley Cook, was previously advising at Milton, and remains as an adviser on the Title III grant.
"My family was so happy when I graduated," said Brazile, who recently earned her master's degree in education from the University of West Florida. "My grandmother cried. And I know it has inspired the younger members of my family."
She's currently pursuing her doctorate degree.
Brazile's oldest niece, when hearing that, said "We won't have to go to the hospital now!," until Brazile explained that she was not becoming a medical doctor, but a learned and well-educated scholar-type doctor.
"I told her she still had to go to hospital when she's sick," Brazile said. "But I know she is inspired seeing someone in the family receive a college and university education and succeed."
She said PSC is a good place to help students who are a lot like she was when starting their college careers. Each adviser has a discipline to which they are assigned. Brazile's discipline is Business Associates and Baccalaureate program students.
"We have a lot of nontraditional students that other colleges and universities don't serve and don't really advertise to," she said. "We help first-generation college students and low-income students who might not believe they can succeed in college. It's our job to help them improve and navigate the registration process and make them aware of all the recourses and services that are available to them. I try to understand why they're here and what they want to achieve and help them get everything they can out of the college experience. That's the reason I'm here. I honestly love the idea of helping students on their various paths."
Her long-term goal is to maybe "work in leadership" in Student Affairs, though, she said, she's not worrying about it too much now.
"Honestly, for me it's more about the journey than the destination," Brazile said. "As long as I'm helping people on my way."
Faulkner has a bachelor's degree in communications from the University of West Florida. Her emphasis while at UWF was journalism but noted that "there's not a whole lot of work for journalists in Pensacola." (She was a freelance writer for the Pensacola News Journal).
Faulkner went to college on her father's V.A. benefits and advises students in workforce and Associate of Science programs.
"He was very proud of that," she said of her own graduation. "And he'd be very proud of how I'm now using my strengths to now help other students."
Before coming to PSC in May, Faulkner was a career services adviser at the Fortis Institute.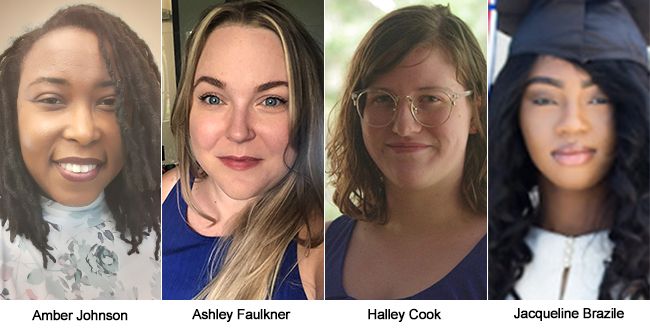 "Ultimately, I'm here to help any and all students," said Faulkner, who also performs in two local indie bands, Blood Moon Pact and Cookies & Cake. "But my true role is to guide first-time and first-generation-in-college students. It's a perfect fit for me and I can use every skill I honed as a journalist. I have good communication skills, I like talking to people, and I'm proficient in critical thinking and problem solving."
And helping students, she said, "absolutely brings me a lot of personal fulfillment. And I know what the students are going through. I've literally been there and struggled through myself, so I always keep that in mind. I just need the students to show up and make good grades, and I'll try to handle the other problems they face at school."
Johnson is a Student Services Adviser at the Warrington campus, advising students in health disciplines. She's not a first-generation college student – her mother earned a master's degree. But the UWF public relations graduate has worked as a social worker, including with victims of domestic abuse and sexual abuse.
"Sometimes people just need assistance," said Johnson, who has a degree in public relations. "And I enjoy helping students who need a little support or guidance."
Often, the students Johnson works with aren't sure what they want to actually do. They just know they want to go to college.
"I just try to listen to them and help point them in different directions," she said. "Sometimes, they're just not sure. But if they start taking a few classes, it will usually come to them. And a good degree will help take you a lot further than if you didn't have one."
While Cook was already an adviser, she was a temporary worker whose job became permanent with the Title III grant. Her advising discipline is computer science.
Cook, a University of Alabama alumnus with a degree in anthropology, is a first-generation college student herself.
"I'm helping students who are going through the same things I went through," she explained. "The most rewarding part of my job is definitely helping students. For most, college is a totally new experience and I just want to help them navigate the landscape and help them achieve their goals. It's all about helping the students."