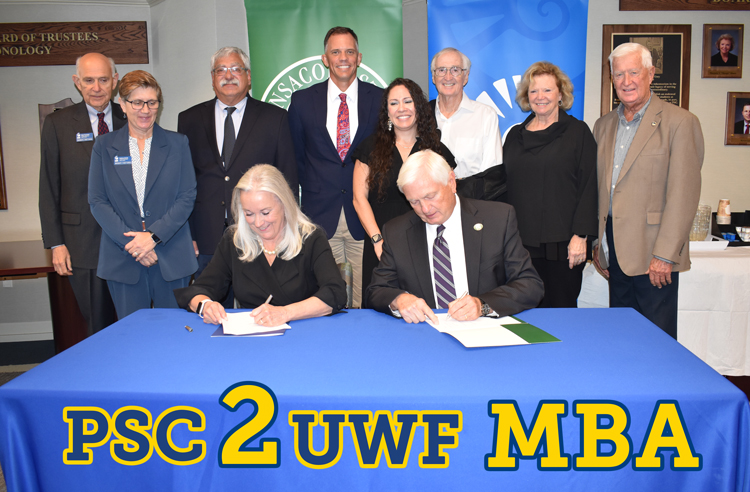 Pensacola State College business students who want to earn a master's degree after earning a Bachelor of Applied Science degree now have an easier path to continue their education.
The College and the University of West Florida entered into a new PSC2UWF MBA Articulation agreement that will expedite admission of PSC students graduating with a BAS degree in Business Management into the Master of Business Administration program at the university.
The agreement was signed Thursday, Nov. 3, by PSC President Ed Meadows and UWF President Martha Saunders during a ceremony in the Dona and Milton Usry Board Room at the PSC Pensacola campus.
"UWF and PSC have a longstanding history of collaboration to improve and increase higher education accessibility in Northwest Florida, allowing the community to retain students,'' Meadows said. "Students receive enhanced advising and support from a UWF transfer pathways coach as well as several student benefits."
The agreement also provides access to UWF's John C. Pace Library resources for students enrolled in PSC's newly-created business climate analysis course which will be offered for the first time beginning in the spring term. Students also will receive other benefits such as recreation and dining facilities. At least two sessions of the course will take place at UWF.
"UWF is here to help students every step of the way, and this partnership is a great example of that,'' Saunders said. "Our goal is to retain PSC's students, provide them with a high-impact student-centered education and have them enter the job market ready to work."
More than 40 percent of all UWF transfer students are PSC alumni.
"What a great opportunity to show our students how invested we are in them,'' said PSC Business Department Head Barbara Torres. "Each institution has its own goals and needs, but there is one mission and that is to provide these students with avenues to pursue their own personal growth through education."