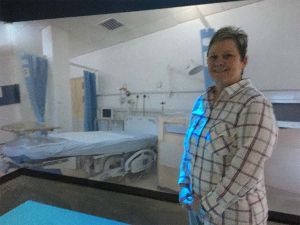 Published: 11-17-2021
Troy Moon, Pensacola State College
Mitzie Sowell walked into a room where busy hospital staff were moving to and from to assist patients.
A minute later, there were fireworks bursting in the room. Then came the snow, leaving shoe impressions on the ground where she walked.
A minute later, Sowell was facing down a dinosaur.
In reality, the room on Pensacola State College's Warrington campus was empty. Indeed, it was Sowell who was controlling the moving audible environment.
Sowell, head of the Health Sciences Department, was showing off the College's new Immersive Technology Room, where instructors can recreate dozens of virtual environments that can in assist in health care training.
"We can program in a hospital setting or an ambulance or even a scene of an accident," Sowell said of the technology, which is produced by Echo Healthcare in Florida. "It really can be used for anything – it's only limited by our imagination."
Echo Healthcare's "Immersive Interactive" uses four projectors and lasers to create an immersive, virtual world complete with sound and movement. The technology also includes cameras where PSC staff can shoot various scenes – local hospitals, beach rescues and more – to use as virtual training spots.
Many instructors are still training on the equipment, and its use in classroom settings has been limited so far. Sowell expects more instructors to use the technology during the spring semester.
The technology features "hot spot" interactive areas where a student or instructor can touch an area to bring up more information on a subject.
"It really puts the student at the scene," Sowell said, as she showcased an ambulance setting. "Students can come put someone in a stretcher, then transfer to the ambulance setting."
From there, they can go directly to a hospital setting.
Sowell said the Immersive Technology Room can be used in programs ranging from nursing to EMT.
"They can practice in controlled environments," Sowell said. "Instructors can set up their own scenarios and tailor it to what they need."
Wanda McNeal, Assistant Director of Nursing, said the technology is needed at PSC.
"It's a benefit because you can simulate real-life situations," she noted. "I can see a lot of different things we can do. We can take videos of local hospitals and use those. We can take a video of Pensacola Beach and create a drowning scene to respond to. There are so many opportunities."