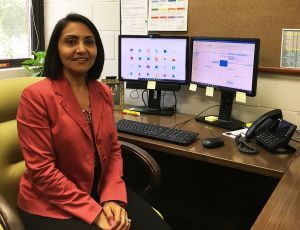 Published: 08-11-2021
Troy Moon, Pensacola State College
Martha Sablatura knows about leadership. In fact, her doctorate degree from Our Lady of the Lake University in her hometown of San Antonio is in Organizational Leadership.
And she's been a leader throughout her career, whether as Director of Research Compliance at University of Texas at San Antonio or as a Management and Program Analyst with the Air Force Manpower Analysis Agency for the U.S. Department of Defense.
Even earlier, she learned firsthand from some of the nation's best leaders when she entered the U.S. Marine Corps basic training at age 18.
Now, she's bringing that knowledge and leadership to Pensacola State College, where she is the Humanities and Social Sciences Department head. She replaces Susan Morgan who retired in June after 31 years at the College.
"Right now, I'm just trying to learn the ropes," said Sablatura after one week on the job. "I'm trying to get back into academia mode. I've been out of academia since 2010 and there's a big difference. It's night and day."
Her most recent position was the Management and Program Analyst job for the DOD. Before that, she worked three years as an Immigration Services Analyst for the Department of Homeland Security in El Paso. Previously, she had worked as Financial Management Specialist at the Air Force Research Laboratory at Kirtland Air Force Base in New Mexico, which was also a DOD position.
Her last job in academia was the Director of Research Compliance at the University of Texas at San Antonio, where she previously held positions as Senior Program Coordinator and Research Assistant.
"I'm really excited to be back in academia and at Pensacola State College," Sablatura said. "Everyone's been wonderful to me so far. I plan on learning how things are done and making changes where needed."
She said she wants to be a mentor to those in her department.
The environment at her various DOD jobs was less team-driven than how she plans to lead.
"Nobody wanted opinions," she said. "I take other people's perspectives into consideration and be more balanced in leadership rather than be dictatorial."
Her own education is extensive.
Besides her doctorate degree, she has master's and bachelor's degrees in Political Science with minors in International Politics and Sociology from the University of Texas at El Paso, where she graduated cum laude.
Sablatura isn't exactly a newcomer to Northwest Florida. Her husband, Josef, is in the U.S. Air Force and was previously stationed at Eglin Air Force Base. The couple kept their home in Fort Walton Beach and the plan was to move back to Northwest Florida when he retires, hopefully, next summer. She's just arrived early.
The Sablaturas have five grown children and no grandchildren. Her hobbies are mainly outdoors activities. She likes to hike, kayak and says she "loves to fish, so I'm in the right place."
And about her stint in the Marine Corps as a teen? Sablatura served from 1987 to 1991 – all her duty stations were stateside.
"Five of my uncles were Marines," Sablatura said. "I didn't tell anyone until two days before I shipped out so they wouldn't try to change my mind."