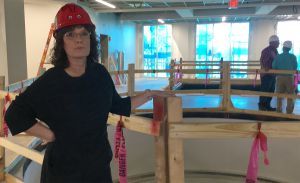 Published: 03-26-2020
Troy Moon, Pensacola State College
What's better than a new car smell?
It's a new building smell. And the state-of-the-art STEM facility going up in the middle of the Pensacola State College Pensacola campus has got it.
"You can smell the paint,'' said Dianne Bracken, PSC's director of Facilities, Planning and Construction. "We're getting there."
Phase 1 of the building plan is the $15 million two-story east wing building that is in the final construction stages. Phase I completion is slated for May, and classes in the new facility will begin at the start of the fall term in August.
No date has yet been set for construction of the Phase II west wing building, or a third-floor connector that will link both wings.
The nearly-completed 25,389-square-foot east wing will be home to various programs beginning in August, including mathematics, cybersecurity, aviation maintenance, computer science and other high-tech fields of study. The eventual west wing facility will be home to other high-tech fields, including advanced manufacturing programs.
"The students and faculty are going to love it,'' Bracken said, touring the east wing interior, where a small army of hard-hatted workers toiled inside. "It's going to be much better than anything we had before for those programs."
The new STEM facility replaces the 60-year-old Mary Ellison Baars building, which was demolished before construction began on the new building in January, 2019, following a late 2018 ground-breaking ceremony, which members of the Baars family attended.
The facility was named for the matriarch of the Baars family in recognition of making the property available for the College's Pensacola campus.
Ajax Building Corp. is the general contractor for the project, which was designed by Florida Architects.
"We've had no real problems throughout,'' said Brock Edwards, Ajax's project superintendent. "It's going to be a great building for the college and we're happy with it."
Those hard-hatted workers toiling inside? Don't fret for them. The HVAC system is installed and operational, and a cool, comfortable climate permeated the building.
Outside, in the mild March heat, other workers on sturdy scaffolding put the final bricks on the exterior, which will be a mixture of brick, glass and metal.
"It feels great inside,'' Bracken said, standing in the first floor interior near where the Math labs will be located. "We can't control the temperature outside, but inside it's going to be comfortable. I can't wait until we get students into the building."
PHOTO: Dianne Bracken, PSC's director of Facilities, Planning and Construction. Photo by Troy Moon