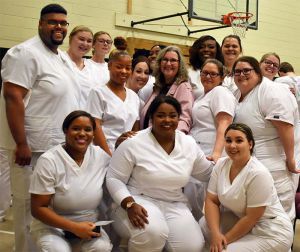 Published: 12-14-2021
Troy Moon, Pensacola State College
Rebecca Shutz grew up in Rhode Island, where she was homeschooled. Though, there really was very little schooling taking place.
"I grew up homeschooled, but they didn't teach me at all and we weren't allowed to go to school," Shutz said. "I just didn't receive any real education."
Yet on Thursday, Dec. 9, Shutz received her Nursing Pin, becoming a full-fledged RN, at a Pinning Ceremony at First Pentecostal Church in Pensacola. She was one of 69 Associate of Science in Nursing students who were pinned, as were 20 nurses who have earned a Practical Nursing Career Certificate.
There were also 25 Bachelor of Nursing Students, all whom previously had earned their nursing pins, who attended the ceremony.
All of the students received their degrees or certificates just a few days later at PSC's 2021 Fall Commencement Ceremony at the Pensacola Bay Center.
"I've had a lot of heroes in my life," said Dr. Troy Tippett, a Pensacola neurosurgeon who is a member of the PSC District Board of Trustees. "Many of those heroes have been nurses."
He said nurses and others who work in the medical field "have a calling."
"I do know it's the most rewarding occupation you could ever have," Tippett said. "Where else can you go to work every day and save lives? There aren't many places."
For Shutz, the pinning ceremony was a long and arduous journey.
"I didn't have a diploma or GED," she said. "I had a 7th-grade math level. But I knew I wanted to go to college. It was scary."
She finally decided to pursue her GED and earned it a few years back while living in her home state of Rhode Island.
Shutz moved to Pensacola about three years ago with her husband, Navy Petty Officer Second Class James Shutz and their daughter, Evelyn, now 4.
When she enrolled at PSC, she had to take remedial and developmental classes before entering the nursing program.
"There was a lot of blood, sweat and tears," she said. "But when people say nursing is too hard, I just tell them that if I can do it, anyone can."
Both her husband and daughter attended the Pinning Ceremony.
"I'm very proud of her," James Shutz said. "It was hard for her and there were a lot of late nights. She was incredible."
Her daughter is proud as well.
"She said she's going to be a doctor someday," Shutz said. "And then we'll work together."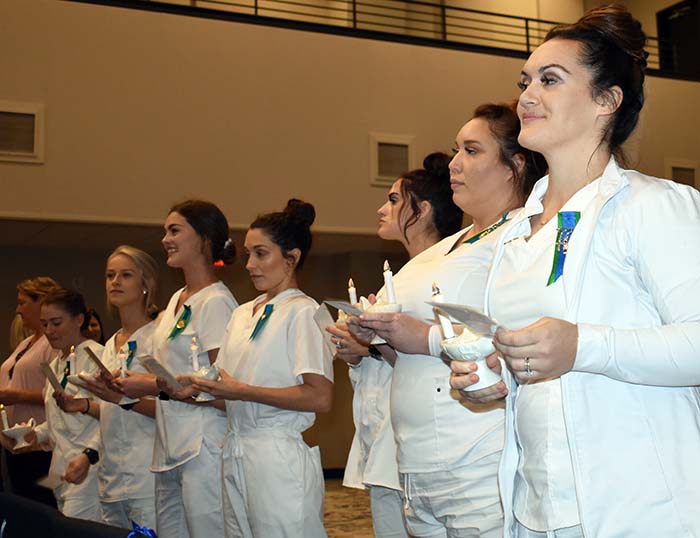 Here are nurses recognized at the 2021 Fall Pinning Ceremony:
Bachelor of Science in Nursing:
Michael Burns
Lauren Chavers
Matthew Couch
Cori Day
Colby Diamond
Laura Durham
Madeline Fontenot
Alvin Gordon
Kyrah Hammond
Colleen Hebert
Austin Jabour
Michael Kellock
Elizabeth McCrary
John Mott
Jamie Murphy
Mallory Nava
Jenny Owens
Dallas Peel
Ronni Renfrow
Stephanie Rinozzi
Rebekah Stallions
Felicia Suggs
Brittany Thomas
Josephine Tion
Brittany Wade
Associate in Science in Nursing
Jay-Anne Alegado
Brittney Betterton
Briahna Bishop
Mary Bishop
Sarah Brown
Sean Bruenn
Marissa Butler
Erica Camarena
Maranda Conner
Jillian Dalton
Mark Dial
Raven Dodson
Keyonnia English
Evelyn Feeney
Flora Georgiou
Elizabeth Gooden
Susan Harris
Dillon Hawkins
Brittany Holmes
Katrina Humphreys
Joshua Hyun
Anthony Jordan
Wendy Jordan
Jessica Jurney
Parker Kelley
Stephanie Kinnebrew
Megan Marcotte
Aidan Markwick
Ceanna Martin
Jacob McClure
Megan McCray
Alexis McGough
Kelly McKeithen
Jacqueline Mitchell
Trisha Montoya
Allison Morea
Taylor Mueller
Alexandra Murray
Chad Negron
Any Nguyen
Harvin Nguyen
Sydnie Norman
Antoinette Odom
Ashley Orr
Halee Palmer
Rebecca Palmer
Bailey Phillips
Taylor Pocopanni
Kendall Richards
Ramona Riley
Aubrey Rios
Zachary Ross
Cristal Sanderson
Emily Schroeder
Rebecca Schutz
Regina Scott
Brianna Sheffield
Oksana Sherman
Katherine Simoneaux
Natalie Simpson
Kristine Skinner
Kacey Stage
Rebecca Stevenson
Leah Switzer
Geonna Tatum
Akaylah Thomas
Brittany Turner
Rebecca Weatherspoon
Jaylin Williams-Jaurequi
Practical Nursing Career Certificate
Cameron Badders
Jamie Conaway
Aaliyah Creamer
Lindsey Davenport
Lacey Deloach
Jonah Eckford
Alexis Gardner
Tyler Gordon
Vickylane Guerrier
Kristen Ishmael
Daisia Jackson
Megan Johnson
Paige Knowles
Angela Long
Allison McGraw
Genise McKinney
Lakedrea Scott
Kelsey Viger
Bailee Webb