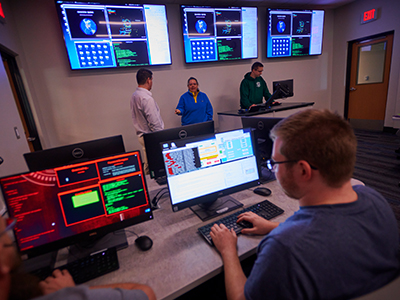 Pensacola State College's Cybersecurity Program has passed the first hurdle in earning a National Centers of Academic Excellence in Cybersecurity designation from the National Security Agency (NSA).
The NSA is the U.S. intelligence agency responsible for global data and intelligence collection and processing.
The National Centers of Academic Excellence have validated the College's Associate of Science in Cybersecurity degree. PSC is now applying for designation as a Center of Academic Excellence in Cyber Defense (CAE-CD), a highly sought distinction that follows the program of study validation.
The current NSA validation runs through 2028.
"This is a great first step,'' said PSC President Ed Meadows. "This validation allows us to pursue more comprehensive credentialing for our cybersecurity program. Meadows said he hopes that PSC's Bachelor of Applied Science Degree in Cybersecurity also will earn the NSA program of study validation.
According to an NSA website, the U.S. Department of Defense "must support the development of cybersecurity skills and encourage even-greater excellence so that America can maintain its competitive edge in cybersecurity."
To earn a CAE-CD, the College must confirm/demonstrate the following:
Outreach to the community, including PSC's sponsorship of cyber defense exercises and competitions.
Cyber training/programs for students, which include guest lecturers, conferences and events.
The establishment of cyber club(s) and a club website.
Cyber events that students participate in that demonstrate their technical competency, including competitions.
Other criteria include an established "center" for cybersecurity, program sustainability, cybersecurity academic integration and institutional commitment
Nelson Stewart, PSC Mathematics and Computer Science Department head, said the NSA validation and the potential CAE-CD designation benefit the College and its students.
He said that employers in cybersecurity look for credentials such as NSA validation and CAE-CD when hiring, "and students with those certifications get priority for those types of jobs."