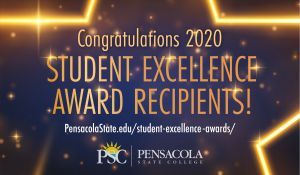 Published: 05-01-2020
Troy Moon, Pensacola State College
Pensacola State College Student Kameron Horak is playing his swan song, the fond farewell.
And he's playing it on saxophone. (Or maybe it's his grandmother's clarinet.)
Horak, a 20-year-old music student, graduates this spring with enough honors and accolades for an encore. He received three 2020 Student Excellence Awards and is one of more than 200 students honored with the accolade.
Student Excellence Award medallions were given for:
• All Florida Academic Team (five students)
• Department Scholars (five students)
• Leadership Awards (eight students)
• President's Volunteer Service Award (one student: Christina Hamburg)
• Program Scholars (21 students)
• Scholastic Achievement (150 students)
• Service Awards (18 students)
• Sharlene E. Burkhardt Award (one student: Julia Riser)
"These students are academic leaders, College leaders and community leaders,'' said PSC President Ed Meadows. "Some do a tremendous amount of community service with organizations such as Manna Food Pantries. Others are leaders in College organizations and clubs. This is our way to recognize them and let them know how much we appreciate the work and effort they put in."
While Student Excellence Award winners are usually honored at an on-campus ceremony, this year's event was cancelled because of the COVID-19 pandemic.
"I've signed a lot of letters that we've sent out,'' Meadows said. "I still want these students to know how important they are to this College."
While multiple students earned two 2020 Student Excellence Awards, Horak is the only student who won three: All Florida Academic Team, Scholastic Achievement and Leadership.
A member of Phi Theta Kappa and the Robinson Honors Program Scholars, Horak also is a Presidential Scholar and tutors in the College's Writing Lab.
He hasn't yet decided on where he'll pursue his bachelor's degree, but he does plan to earn a doctorate degree eventually. While at PSC, he has performed with the Wind Ensemble and Jazz Band, as well as with other community bands.
Horak began playing music when he was 11 and in middle school, prompted by his grandmother, who played clarinet. She urged him to play saxophone and Horak said he developed a passion for music from the start. But he credits PSC for helping him develop his craft and musical knowledge, and acknowledges PSC instructor Richard Jernigan, former PSC private instructor Bob Maksymkow, as well as former private instructor Sandy Spivey for inspiring and instructing him.
Today, he can play numerous saxophones, piano, guitar, ukulele and clarinet. In fact, he now plays his grandmother's clarinet.
"I think I've progressed to the next level, and that I'm almost overly prepared for whatever is next,'' he said. "Don Snowden (retiring PSC Performing Arts Department Head) has built an amazing program. My instructors have really pushed me, and I feel I've learned more at PSC than I could have with any other organization."
He said he is considering going into musical education at some point.
"I've had passionate instructors and I think it's important to promote the arts in schools,'' Horak added. "I'm trying to learn as much as I can so I can share that with others at some point."
To see a list of all Pensacola State College 2020 Student Excellence Award winners, go to www.pensacolastate.edu/student-excellence-awards/ .