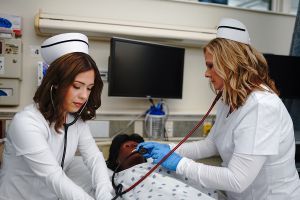 Published: 11-20-2020
Troy Moon, Pensacola State College
Holly Bartlett had raised eight children and was wondering what was next in her life. She was restless and still wanted to do so much more. She said she wanted to "leave a legacy" for her children – though most would say being a mother of such a large family is legacy aplenty.
Her daughter Aubrey Hedlund was working at a fast food joint and was pregnant.
That was two years ago.
Now, Mom and Daughter are registered nurses. They have just earned their Associate of Science in Nursing from Pensacola State College. The women will receive their nursing pins at a ceremony on Dec. 10 and receive their diplomas on Dec. 13.
"It's kind of surreal at this point," said the 47-year-old Bartlett. "I always wanted to be a mother and have a large family and immerse myself in family. Once I turned 30 I thought I was too old to go back to school, which is ridiculous. The drive just got more intense the older I got."
Hedlund, 22, had her own concerns about going to college.
"It was intimidating to me," Hedlund said. "I didn't think it would be something I could accomplish. It didn't seem like something I would be able to succeed at."
But her Mom was pushing college, for both of them.
"She's so bright and I wanted her to continue with her education," Bartlett said. "I was suggesting ideas – 'What about this?' or 'What about that?'"
The women, who live together in Navarre, thought about a few different career paths – stenography, dental hygiene and nursing.
"Every year my mother would have me fill out a list every year about what I wanted to be when I grew up," Bartlett said. "It would be five things. One of them was a firefighter and another was a nurse."
But her father always said of her nursing interests 'Why stop there?'," Bartlett recalled. "He would ask 'Why not become a doctor?' That always stuck with me like 'If I can't go all the way, I won't do anything.' That became the story of my life for too many years."
Even though Bartlett's fascination with nursing began at an early age, it was reborn after her sister died at the age of 46 and Bartlett saw the kindness, compassion and professionalism displayed by her sister's nurses. While at PSC, Bartlett's mother died after complications of a fall. Again, Bartlett was struck by the kindness and attentiveness of the nurses.
After nervous deliberation, mom and daughter settled on nursing, and after looking at another area nursing program, chose Pensacola State College.
"The whole PSC experience has been amazing, despite some rough moments," Bartlett said. "It's been transformative. You just bond in a unique and special way in the nursing program. I'll never forget my instructors. And I had some extraordinary people who mentored me and taught me. They really are beautiful people."
Hedlund also said her experience at PSC has been positive.
"At first I was intimidated, but the teachers encouraged us every step of the way," she said. "Teachers made time for us anytime we needed help. They truly push you to succeed and want you to succeed."
Mom and daughter carpooled from Navarre to Pensacola for classes.
"She was stubborn and wouldn't even let me drive," Hedlund said. "Even when she broke her arm."
That's right, Bartlett broke an arm during her course work, and still drove – with a sling – each way.
"She's not the best driver," Bartlett said about her daughter.
But she's exceptional in other fields.
"I am so proud of her," Bartlett said of her daughter. "I can't imagine working and going to school and being pregnant and then having a new baby and staying in school. Her work ethic is impeccable. She's just so remarkable and I'm very proud." Hedlund's daughter Sailor turns 2 years old in December.
"I'm more proud of her," Hedlund said of her mother. "She had the initial drive and started the whole thing. I don't know what I would be doing now if she hadn't pushed me and been willing to do it herself."
But they did it. And while they studied together and pursued the dream in tandem, they did bring their distinct personalities to PSC.
Did Mom cramp the daughter's style on campus?
"No, I think I probably cramped her style more," Hedlund said. "She's the social butterfly. I'm more of a wallflower."
In fact, when Bartlett finished a particularly tough class – statistics – she baked a cake for the class.
"Statistics was so intimidating for me," she said. "I didn't think I could ever do that."
"Yeah, but you got an A," Hedlund reminded her.
PSC Nursing instructor Jo Haberbush said both women have been inspirations.
"I didn't even know they were Mother and Daughter until the end," Haberbush said. "They never played on that. But it's such an inspiring story. Aubrey is very quiet, but an outstanding student. They're both outstanding people. The amazing thing is they did this together. They're going to make beautiful, excellent nurses."
Haberbush said the legacy that Bartlett had hoped for is surely strong.
"She's a true example for her daughter, an example of determination and character and integrity," Haberbush said. "She devotes her whole life to taking care of her children and then she goes back to pursue her own dream. It's pretty remarkable."
Now, the women are preparing to start their pursuit of a bachelor's degree in nursing from Purdue University. All of their classes will be online, which is traditional for bachelor's degrees in nursing, since most nurses are working nurses.
They would have preferred to continue at PSC, but PSC's Bachelor of Science in Nursing degree would require that Bartlett complete two chemistry courses she was lacking first, while Purdue does not have the chemistry requirements. It's an accelerated program and both women expect to earn their Bachelor of Science in Nursing degree
"It was going to be two semesters of chemistry," Bartlett said of PSC's Bachelor of Nursing program. "I just don't have that kind of time. I've waited so long already."
The legacy is real.
"Aubrey and I are the first women in my maternal line to graduate college," Bartlett said. "Raising the bar for future generations has been powerful."