Troy Moon, Pensacola State College
Two stunning art exhibits are on display at Pensacola State College.
"Dream State," an exhibit by Mobile artist Lauren Woods, is on display in the Charles W. Lamar Studio housed in the Anna Lamar Switzer Center for Visual Arts.
The PSC Art Faculty Exhibition is on display in the Gallery of the Anna Lamar Switzer Center for Visual Arts.
A reception featuring Woods and PSC art faculty will be held from 5 to 7:30 p.m. Thursday, Aug. 26.
Woods also will present an Artist Lecture at 3 p.m. Thursday in Room 1513 of the Anna Lamar Switzer Center for Visual Arts. All events are free and open to the public.
PSC faculty members whose work is exhibited are Micah Cain, Anna Cavnar, Todd Duren, Mark Francis, Mark Hopkins, Julie McGrath, Jason Pinckard, Kristen Regan, Jimmy Rhea, Christopher White and Visual Arts Department head Alaina Plowdrey.
Woods, an assistant professor of art at Auburn University, is an artist who explores "concepts of mythic time." Her paintings, according to her biography, "combine fabricated and observed reality with mutable narratives, much like what happens when we are in a dream state."
Plowdrey and Woods attended graduate school together at the New York Academy of Art.
"Her work was equally mythical back then but has evolved and matured in a brilliant way," Plowdrey said. "Her balance of historical narrative, psychological underpinnings and representation of her professional ballet career within the work offers the viewer an immersive experience with the art."
Woods is a former ballet classical ballet dancer who uses dancers occasionally in her artwork. An example is in the painting "The Breakup," which is part of the PSC exhibit.
"If you look at the history of dancers, they started off as royalty," Woods said. "But as they became more female-dominated, their portrayals were degraded."
She said there is a central theme to her work.
"Basically, I'm trying to understand myself through the creation of personal mythology," Woods said. "There's this mythic time of creation and discovery that is outside of the capitalist node of existence."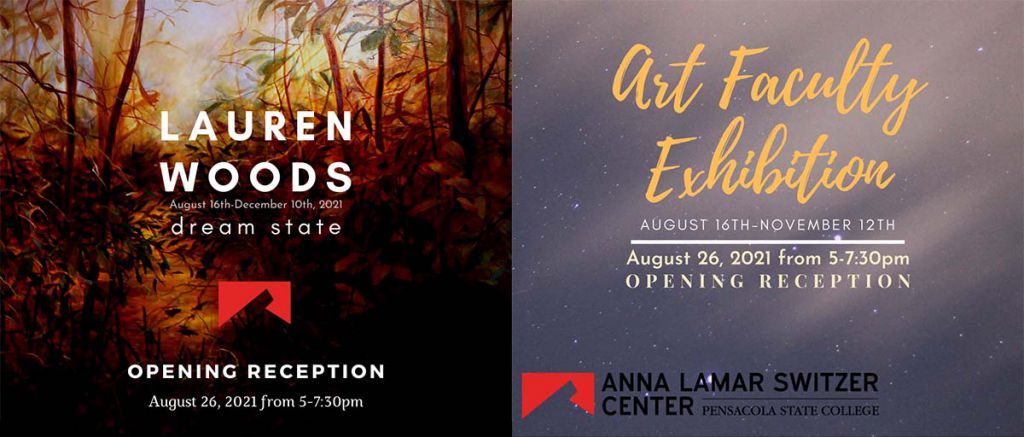 The faculty exhibition showcases the expertise and variety of PSC instructors.
"You can tell a lot about a person by their creative expression," Plowdrey said. "We have an amazingly talented, diverse and passionate group of individuals in the Visual Arts Department, and it shows within their artwork."
She also praised Pinckard, PSC Gallery Coordinator, for the arrangement of the exhibition.
"His installation gives each faculty member meaningful presence for their work," Plowdrey explained. "Proper installation of artwork is a delicate dance and he did a phenomenal job."
Graphic Design program coordinator Mark Hopkins said it important for the College to feature faculty members.
"And it's important that the work be good," he said. "I've been here for 21 years, and I teach certain things about quality, about studying, about performing and learning new things. This is a way for us to reach people, which is important for potential students and recruiting."
Lauren Woods' exhibit "Dream State" is on display through Friday, Dec. 10. The PSC Art Faculty Exhibit runs through Friday, Nov. 12.
Details: https://visualarts.pensacolastate.edu/.