Published: 07-28-2022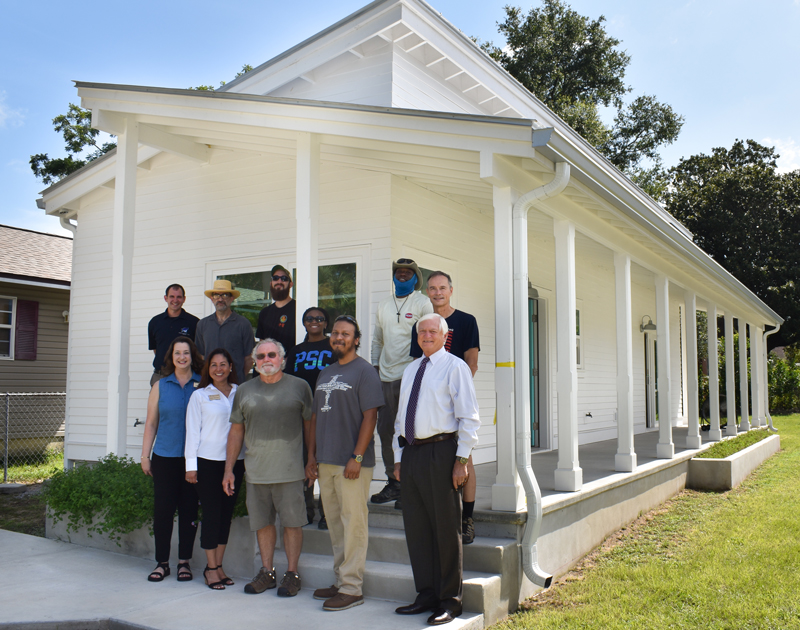 There was no ribbon.  Instead, Pensacola State College Carpentry Program Coordinator Tony Grahame cut a yellow stretch of construction site tape to mark the completion of a mini-home built by the program's students.
"The students have built a high-performance home,'' said Grahame, a Certified Master Builder, during the small ceremony held Thursday, July 21. "It's energy efficient and built to last. It's very resistant to storms and even hurricanes."
Located on Tarragona Street in Pensacola, the 600-square-foot home was built in collaboration with the Escambia County Housing Finance Authority and its Urban Infill program, which targets development of vacant urban properties and construction of affordable homes to first-time homebuyers.
The prototype home features a 300-square-foot wrap-around covered porch and solar panels to further reduce electrical costs. The home is a prototype based on a University of South Florida design, though PSC was given latitude in making changes when necessary.
Though it was Pensacola State carpentry students who built the home, there were contributions from other College workforce programs as well, including HVAC and electrical.
"It looks like a great home,'' Meadows said to Grahame during a home tour following the ribbon cutting. "Your students did a fantastic job."
Work on the home began in late 2018 and construction was slowed by COVID-19 shutdowns.
"I love this home,'' said PSC carpentry student Michael Osorio, a U.S. Army veteran and one of the students who helped construct the home. "I'd want to live here for sure. We all put a lot of hard work into it."
The single-bedroom home has a kitchen, living room and a bathroom.
"I think this home showcases how we can have a hands-on learning environment and increase the urban infill housing environment in our country. This home was built with a lot of community partners. PSC provided the backbone and the students and the elbow grease," Osorio added.
Meadows lauded the partnership between the College and the Escambia County Housing Finance Authority.
"The partnership could not be any more successful,'' he said. "Features like solar windows, privacy windows and a wrap-around porch make it an ideal home for two people and certainly meets the goal of the Escambia County Housing Finance Authority to provide affordable housing in Escambia County."
The PSC program offers students an opportunity to earn a Vocational Certificate in Carpentry. It's a three-term, 1,200 clock-hour program and it leads to a certification from the National Center for Construction Education and Research (NCCER).
In the first term, students take three courses: Introduction to Craft Skills, Introduction to Carpentry and Building Layout and Foundations. In the second term, students take Carpentry Rough Framing and Carpentry Exterior Finishes. The final term consists of one 300-credit hour course: Interior Finish and Trim.
Students also gain advanced carpentry certificates including the NCCER Craft Trade Certificate in Carpentry, OSHA10 Safety Credentials, CPR/AED/FA Certificate. Typically, students begin the first semester in fall, and finish the third semester the following summer.
In June 2021, SkillsUSA/Lowe's Home Improvement awarded the PSC program a $15,000 grant to help upgrade the construction lab and purchase new materials and equipment.
The purchases included ducting and duct collection registers, shelving materials, new air compressor hoses, ceiling-mounted electrical extension cord reels, large portable shop vacuum, portable hand and power tools and materials to construct an enclosed outdoor wood-framed storage shed.