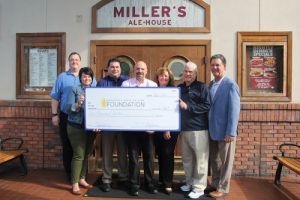 Published: 12-12-2017
Miller's Ale House has officially become part of Pensacola State College's Pirate Nation.
On Dec. 1, the restaurant donated $1,000 to the Pirates and Lady Pirates basketball teams. And as a corporate sponsor, Miller's Ale House will livestream all home basketball games to diners and patrons.
Miller's Ale House Marketing Director Jimmie Marshall said restaurant employees are super excited being members of the Pensacola State family.
"We want to support as many local colleges and universities and their programs as we can. Being able to give back to Pensacola State College and being part of something bigger than ourselves has long been a corporate goal of Miller's Ale House," she said.
"Also, we want to make a positive impact on the future and helping college students and college athletes is our way of doing that. We appreciate Pensacola State for giving us this opportunity."
Hailey Lotz, coordinator of PSC Booster Operations, said the college looks forward to a long relationship with the restaurant.
"It may be a new corporate sponsorship, but the marketing and management team at Miller's Ale House has already gone above and beyond for our Pirates," she said.
"We encourage all of our PSC family to make Miller's Ale House a place to frequent. Stop by and enjoy the livestreaming of Pirates games and see our teams' posters and Pirates jerseys displayed for the community to see. It's a fantastic start and a place to grow from, and all of us at PSC Athletics are appreciative of this opportunity."
Also on hand for the check presentation were Pensacola State Vice President of Administrative Services Tom Gilliam; Miller's Ale House Regional Manager John Hodge; Miller's Ale House General Manager TJ Goodman; PSC Basketball Coach Pete Pena and PSC Athletic Director Bill Hamilton.